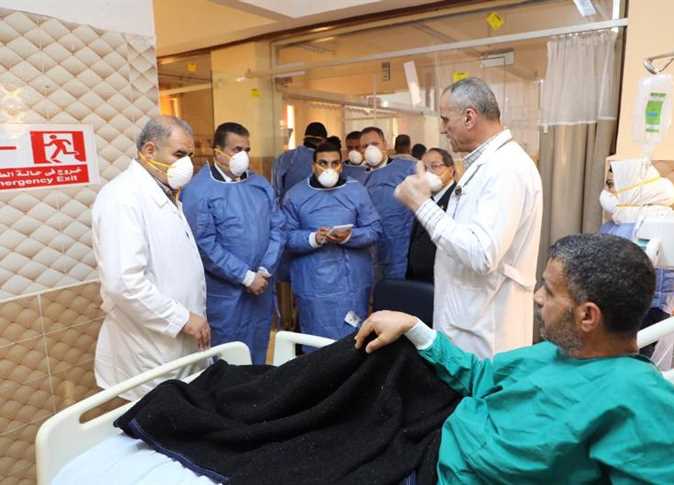 The head of the Scientific Committee to combat coronavirus at the Health Ministry Hossam Hosny announced Saturday that Egypt has reached the beginning of the peak of its coronavirus outbreak.
Egypt on Saturday confirmed 298 new coronavirus cases, bringing the country's number of confirmed total cases so far to 6,193. The total number of COVID-19 deaths has now reached 415 nationwide.
In a phone-in with Lamis al-Hadidy's TV show "al-Kahera al-Aan" (Cairo Now) Hosny expressed hope that cooperation between the authorities and the people would eventually lower cases.
However, he lamented that since Ramadan began people have been violating the curfew, which starts at nine pm for the month.
"I saw youth gatherings after Iftar and a large numbers of children took to the streets, riding their bicycles, as if we were on vacation, as if they were in happy times. Before Ramadan, we were hoping that citizens would be aware of the disease. Now we are afraid of Ramadan because of people disregarding the precautionary measures against coronavirus," Hosny said.
It is essential to begin tightening the penalties for curfew, he added, stressing that the curfew is constantly being violated especially in streets at large cities and villages.
The Deputy Director of the Imbaba Fever Hospital, Maher al-Garhy meanwhile expressed  deep sorrow at the lack of commitment from citizens in following these precautionary measures.
"Unfortunately, there is no interest from citizens in taking precautionary measures against the coronavirus. People have not been able to think of the extent of the catastrophe that could happen. Be committed to the precautionary measures, because the rate is increasing," Garhy said during a phone-in with the Extra News satellite channel.
"If we take health precautions measures, the numbers will be reduced. The situation is not easy. We do not want to be like Italy," he warned.
"We said over 100 times that the virus may be in a patient without showing any symptoms, and there might be out there a carrier of the virus and his immunity is good, and he transmits the virus to another person whose immunity is weak and causes their death," Garhy said.
And the Presidential Adviser for Health Affairs Mohamed Awad Tageldin implored all citizens to follow the government's and authorities' instructions regarding measures against the coronavirus.
"We can at this critical period reduce the spread of the coronavirus by following the instructions, and means of prevention," Tageldin said during a phone-in with state television.
"We must all support the government in this. We said that this increase will take place, but we said we want it horizontal, not vertical, and we must follow the instructions and preserve ourselves and our country," he stressed.