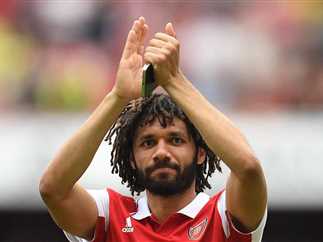 The English football club Arsenal announced extending the contract of its Egyptian player, Mohamed Elneny, for an additional year, so that the contract ends in June 2024 instead of the current year.
Elneny's contract was expected to expire at the end of the current season.
The midfielder of the Gunners and the Egyptian national team suffered during the last period from a knee injury, which led him to undergoing a surgery and absence for a long time.
The date of his return to soccer field has not yet been determined.
The injury came in Arsenal team's training before facing Tottenham, in January, in the English Premier League.
"I'm so happy, I love this club and our supporters so much and I'll give everything to help us be the best we can be, every day I'm here." the midfielder said in statements to the club's website.
"It makes me so proud to have represented this amazing club since 2016. The spirit and togetherness we have in our squad right now is so positive and I'm so happy I have extended my contract," Elneny added.
Elneny joined Arsenal in the summer of 2016 from the Swiss team Basel, and participated in the Gunners shirt in 155 matches during different seasons in all competitions, scoring six goals and making 10 assists for his teammates during the seven years he spent inside the London club.