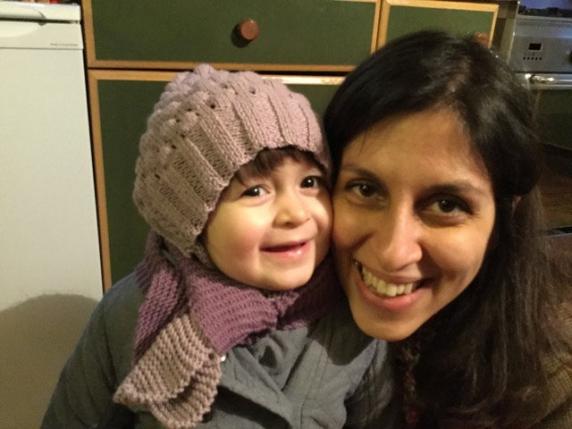 Montreal academic Homa Hoodfar was preparing to return to Canada from Iran in March when agents from Iran's powerful paramilitary Islamic Revolutionary Guard Corps raided her Tehran home and took her laptop, phone, books and passport, her family said.
Over the course of the next three months, Hoodfar, an Iranian, Canadian and Irish citizen, was called in regularly for day-long interrogations. On June 6, she went in for yet another interrogation session but was not released.
Nine days later, the hardline Mashregh site, which is affiliated with the Revolutionary Guards, published what it alleged were her crimes: creating security problems within the Islamic Republic by taking part in feminist activities.
It pointed to her link with Women Living Under Muslim Laws (WLUML), a network of women and organizations that do advocacy and academic work.
Hoodfar's niece said the 65-year old anthropology and sociology professor at Concordia University in Montreal was in Iran on a personal trip.
"Those allegations are not backed with any facts and they're baseless," Amanda Ghahremani told Reuters by phone from Canada.
Attempts to reach the Revolutionary Guards via their official news site and the media office of the Iranian judiciary for comment were unsuccessful. There was no immediate comment from Iran's UN mission in New York to Reuters about the arrest of dual-national Iranians.
In the past nine months, the Revolutionary Guards have arrested at least six dual-national Iranians, their friends and family members say, the highest number of Iranians with dual-nationality detained at one time in recent years to have been acknowledged. The government has confirmed most of the detentions, without giving details of any charges.
Analysts say the circumstances are often similar: arrest on arrival or departure from Tehran's airport, the announcement of a period of interrogation followed by a hardline website publishing a list of alleged crimes, usually plotting to overthrow the government, before they set foot in court.
The Iranian government does not recognize dual nationality, which prevents relevant Western embassies from seeing individuals who have been detained.
In March, the US State Department issued a warning noting that Iranian-Americans are particularly at risk of being detained or imprisoned if they travel to Iran.
According to former prisoners, families of current ones and diplomats, in some cases the detainees are kept to be used for a prisoner exchange with Western countries. In January, the United States and Iran reached a historic prisoner swap deal that saw Iranians held or charged in the US, mostly for sanctions violations, released in return for Americans imprisoned in Iran.
Among the dual-nationals currently being held is Nazanin Zaghari-Ratcliffe, an Iranian-British citizen, who was detained at Tehran's airport in April while traveling with her two-year old daughter. Zaghari-Ratcliffe, 37, works for the Thomson Reuters Foundation, a London-based charity that is independent of Thomson Reuters and operates independently of Reuters News.
Monique Villa, the foundation's CEO, said Zaghari-Ratcliffe had no dealings with Iran in her professional capacity.
Last month, the Revolutionary Guards in a statement accused Zaghari-Ratcliffe of trying to topple the government, a charge that her husband, Richard Ratcliffe, called "preposterous".
In late June, Zaghari-Ratcliffe's lead interrogator presented an unusual proposal: her husband should pressure the UK government "to reach an agreement" and in exchange her case would be closed before going to court. The interrogator did not give any further details on what the agreement would entail, Ratcliffe told Reuters.
He said he relayed the proposal to the UK Foreign Office and was told they had no information about any agreement.
The interrogator also told her mother during a visit to Evin prison last Wednesday that the agreement he was referring to was an "exchange," Ratcliffe added.
The UK Foreign Office has raised Zaghari-Ratcliffe's case with Iranian Foreign Minister Mohammad Javad Zarif and other senior Iranian officials but its representatives in Tehran have not been granted access to see her, according to a Foreign Office spokeswoman who replied to a query from Reuters.
The timing of the detentions appears to undermine President Hassan Rouhani's outreach to the West after signing the nuclear deal last summer, analysts say.
In October, Siamak Namazi, former head of strategic planning for Crescent Petroleum in Dubai, was arrested in Tehran. The Iranian American had previously worked as a consultant in Iran for years encouraging foreign firms to invest in the Islamic Republic.
Karim Sadjadpour, an Iran analyst at the Carnegie Endowment for International Peace, said Namazi's arrest appeared to be designed to send a signal to other dual-nationals who could potentially help foreign firms invest in the country.
The risk of detention would deter wealthy dual-national Iranians from the diaspora from investing in Iran, which would reduce economic competition with the Guards, he said.
The Revolutionary Guards are the most powerful military force in Iran with business interests worth hundreds of billions of dollars.
Namazi's father Baquer, an 80-year-old former official with the United Nations' Children's Fund, went to Iran last February and was also arrested. Baquer, who is also Iranian-American, is now in Evin prison with his son.
There was no immediate response from Crescent Petroleum.
A key event in the foundation of the Islamic Republic was the capture of 52 employees at the US embassy in Tehran in 1979 who were held hostage for 444 days.
Hostage-taking for political goals continued through the 1980s when Hezbollah, which was founded, trained and funded by Iran, captured Western hostages, including Americans in Lebanon. The complex deal to swap those US hostages for arms shipped to Iran became known as the Iran-Contra affair.
Last January, four Iranian-Americans held in Iran, including Washington Post reporter Jason Rezaian, were released as part of an exchange. Seven Iranians held or charged in the US, mostly for sanctions violations, were granted clemency in return.
Last week, Tehran prosecutor Abbas Jafari Dolatabadi announced that indictments had been issued for Hoodfar, Siamak Namazi and Zaghari-Ratcliffe and that their cases are being transferred to court for processing, according to the judiciary's official news site Mizan.
No details were provided about what charges any of them face.