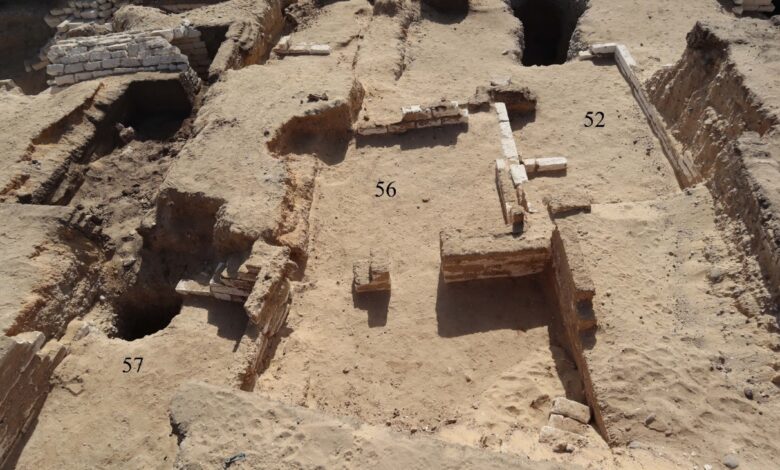 The joint Egyptian-Spanish archaeological mission between the Supreme Council of Antiquities and the University of Barcelona, operating in the Bahnasa area in Minya Governorate in Upper Egypt, has uncovered 22 tombs dating back to different eras during excavations in the Upper Cemetery area.
A statement by the Ministry of Tourism and Antiquities on Friday stated that these tombs include three limestone tombs from the Roman era, three other individual tombs from the Persian era, and 16 tombs from the Byzantine and Coptic eras.
The head of the Central Department of Antiquities of Central Egypt Adel Okasha said that the tombs discovered from the Roman era were built out of limestone and were mostly vaulted. Most of them were found demolished down to their foundations and were not inscribed.
A coffin was found in its original place without a cover in one of the tombs, he added.
Okasha said that preliminary studies of the tombs of the Twenty-sixth Dynasty of Egypt era showed that they were robbed long ago, which explains why no funerary furniture was found in them.
Meanwhile, the tombs dating from the Coptic era were found in a rectangular hole in the ground, with the upper part built towards the east. Several pottery vessels and lamps were found nearby.
The heads of the mission from the Spanish side Esther Pons Mellad, and Maite Mascort, said that the mission had succeeded during its last excavation season in uncovering a number of individual tombs from the Persian and Roman eras, including a closed tomb that had not been opened before.
They confirmed that the mission will continue its work to discover more about this site.