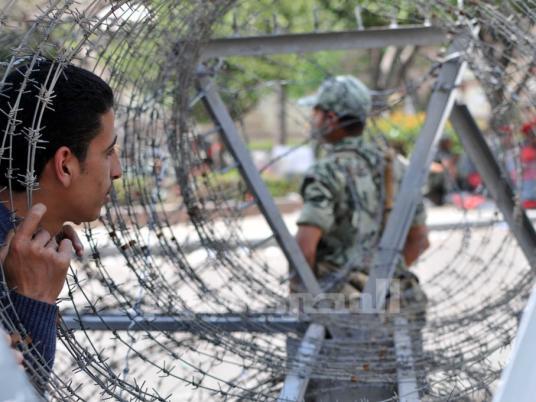 Army troops blocked a march in support of President Mohamed Morsy before it arrived outside the Defence Ministry, on a day organizers have vowed to bring a million people onto the streets of Cairo.
Marchers headed from Nour mosque to Abbasseya Bridge at midday Tuesday.
Military forces stood behind barbed wire fencing around the ministry while armoured vehicles were stationed along the street leading to the building.
"The Egyptian army belongs to us but [Defense Minister Abdel Fattah] al-Sisi does not," marchers could be heard chanting.
Protesters reportedly argued with troops when they attempted to cross the barbed-wire defences.
Dozens of Morsy supporters travelled by bus from Rabea al-Adaweya, where protesters have held a month-long sit-in against what they call the 3 July military coup, to Abbasseya mosque ahead of the Defence Ministry march.
Armed forces have begun to dissemble brickwork defences erected by Morsy supporters along Nasr Road, on the approach to Rabea al-Adaweya.
Nasr Road was the site of a second major outbreak of violence between pro-Morsy protesters and security forces, back by civilians. Scores died when police and residents allegedly opened fire on the protesters.
On 8 July, 51 pro-Morsy demonstrators were killed when the army opened fire on crowds outside Republican Guard House in Nasr City. Military spokesperson Ahmed Mohamed Ali claimed marchers were attempting to storm the facility, where many believed President Morsy was being held incommunicado following his overthrow.
Egypt's army has warned protesters not to approach military installations as protests continue.
Edited translation from Al-Masry Al-Youm