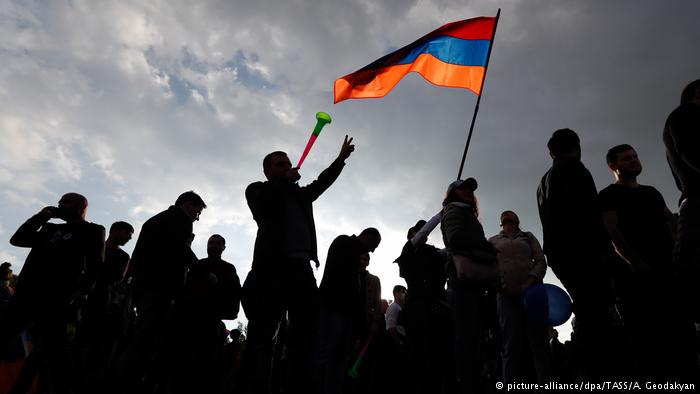 The list of post-Soviet revolutions keeps growing. After Georgia in 2003, Ukraine in 2004 and 2014 and Kyrgyzstan in 2005, there's now Armenia, where street protests have forced a change in leadership. On Monday, Serzh Sargsyan made the surprise decision to step down. Shortly beforehand, there were reports that soldiers had joined the masses of protesters. Former Prime Minister Karen Karapetyan has taken over in the interim.
Sargsyan's downfall
Sargsyan had been serving as prime minister for less than a week, but that was after serving two terms as the country's president from 2008 to 2018. He had been hoping to extend his rule, laying the groundwork in 2015 when he oversaw a referendum turning Armenia into a parliamentary republic. At the time, he vowed not to run for office — a promise he broke. On April 17, parliament elected Sargsyan prime minister. But his plan backfired.
"The Armenian people have spoken very clearly, and not just the citizens of the capital, Yerevan. The protests have been taking place across the country," said Nino Lejava, head of the Heinrich Böll Foundation in the Southern Caucasus.
"Discontent with the system under Sargsyan and the Republican party has been growing for years," she added, explaining that the president and his party had tried to, via a constitutional reform, "change the political system so as to extend Sargsyan's rule," ultimately sparking the protests.
Opposition leader in camouflage
Sargsyan has long been unpopular. His first election to the presidency a decade ago prompted unrest. But those protests were violently suppressed, leaving 10 people dead. In 2015, large numbers of Armenians took to the streets to demonstrate against high electricity prices, causing Sargsyan to change course. The current protest movement, which brought about leadership change in just 11 days, began primarily as a reaction to the ongoing problems of poverty and corruption in Armenia. Sargsyan's election as prime minister was a catalyst. On the weekend, tens of thousands of protesters — the majority of them young people — brought the capital to a standstill.
Opposition leader Nikol Pashinian, a former journalist and current member of parliament, was arrested and eventually released. His three-minute meeting with Sargsyan on the weekend now appears to have foreshadowed Monday's events. It was a curious encounter, broadcast live on television. The prime minister was sitting at a small table in a hotel, next to his challenger. The 42-year-old Pashinian dressed like one of the protesters, sporting a grey beard, a green camouflage t-shirt and a black baseball cap. He said he'd come to discuss Sargsyan's resignation.
"This is blackmail," Sargsyan answered, leaving the room. One day later, he stepped down.
Nightmare scenario for Russia
For years now, Moscow has been watching the unrest in neighboring countries with concern, pointing the finger at Western intervention. Now, the familiar scenario is playing out in Armenia, a particularly close Russian ally in the post-Soviet era.
"The peaceful downfall of a politician who wanted to remain in power for years to come is a slap in the face for Moscow's foreign policy," said Russian journalist Konstantin von Eggert. He believes that the Kremlin likely underestimated the strength of the Armenian people's disillusionment with Sargsyan.
Initial reactions from Moscow have been restrained. Parliamentary Chariman Vyacheslav Volodin said simply that Sargsyan's resignation is an internal affair for Armenia.
Fresh elections?
It's not yet clear where Armenia will go from here. The Heinrich Böll Foundation's Lejava is predicting long negotiations with the Republican party, as protesters have been demanding early parliamentary elections. But according to her, the latest developments are at least a step toward Armenia's further democratization.