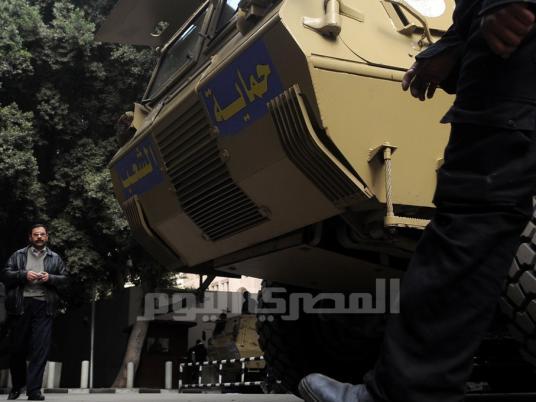 Egypt's amed forces are in the process of devising a plan for securing state institutions ahead of 30 June opposition protests, military sources told Al-Masry Al-Youm on Friday.
Sources, speaking on condition of anonymity, said Defense Minister Abdel Fattah al-Sisi had already inspected the units of the Central Military Zone, responsible for securing entrances to governorates including Cairo, Giza and Qalyubiya.
The plan, expected to be completed within the next few days, will focus on securing vital institutions, public facilities, foreign embassies and strategic points including entrances to governorates.
Security provisions that will see armed forces deployed on the streets during protests would be maintained according to an order from President Mohamed Morsy, sources added.
Deployment could take as little as 15 minutes.
Central Military Zone units would secure a total of 7 governorates: Cairo, Giza and Qalyubiya, Monufiya, Fayoum, Minya, and Beni Suef.
Second and Third field armies would meanwhile secure Egypt's Canal cities, after Suez, Ismailia and Port Said witnessed some of the worst violence to break out around the second anniversary of the country's 25 January revolution.
Protests on 30 June have been planned by opposition groups demanding early presidential elections and that President Morsy step down.
The date marks the first anniversary of Morsy's inauguration as president. Several opposition politicians have expressed hopes it will also mark the end of his term.
Edited translation from Al-Masry Al-Youm