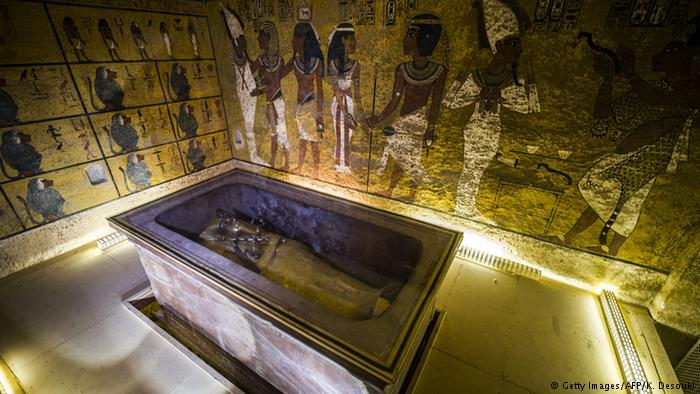 In 2015 a British Egyptologist said he found evidence of a hidden chamber behind King Tutankhamun's lavish tomb. Archaeologists have now started what they hope are decisive scans.
Archaeologists have started "decisive" radar scans in King Tutankhamun's burial chamber in the search for hidden chambers, Egypt's Antiquities Ministry said Thursday.
Researchers are using ground-penetrating radar to hopefully verify the presence of empty spaces or corridors behind the walls of the pharaoh's burial chamber. The young pharaoh was buried inside a tomb known as KV62 in the Valley of the Kings near the modern city of Luxor.
The tomb was discovered in 1922 and found to contain a wealth of treasures.
British Egyptologist Nicholas Reeves in 2015 claimed that photographs and scans of the tomb's northern wall seemed to suggest the presence of a concealed chamber.
Reeves theorized that the hidden chamber might contain the tomb of Queen Nefertiti, the wife of Tutankhamen's father, the pharaoh Akhenaten.
Leader of the investigation Professor Franco Porcelli of the Politecnico university in Turin, Italy, told La Repubblica newspaper that proving Reeves' theory "would be like winning the lottery."
He said his team had already identified "two empty spaces, one rather big, one not so much," and that he hopes to give a "final answer" about Reeves' hypothesis in the coming months.
Egypt has previously scanned the tomb but the results were inconclusive.
In November, a project known as ScanPyramids announced the discovery of a large void in the Great Pyramid of Giza using muography. The discovery was the first major inner structure found in the Great Pyramid since the nineteenth century, according to researchers.