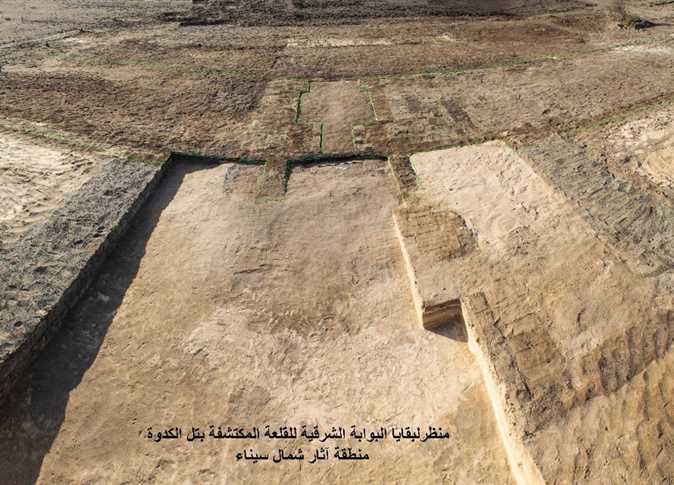 The Egyptian archaeological expedition in Tal al-Kidwa, in North Sinai, have uncovered the remains of two towers of a military fortress dating back to the Twenty-Sixth Dynasty.
Head of the Egyptian Antiquities Department Ayman Ashmawy explained that the mission had discovered southeastern and northeastern towers and part of a wall extending for 85 meters.
Excavations are being completed to discover the rest of the fortress, he said.
He stressed that this is the oldest historic fortress discovered in Sinai, adding that a wall was first discovered in 2008. Another fortress has been built on the ruins of this old castle which was also discovered earlier, according to Ashmawy.
Nadia Khedr, head of the Central Department of Lower Egypt Antiquities, said that the old building was constructed in a different way from the more recent fortress.
The walls of the old one were about seven meters wide, while the walls of the new castle were about 11 meters wide, reaching 17 meters at the towers area. The more recent fortress contained 16 towers, whereas the older fortress contained only four towers, she said.
Khedr explained that walls of the older fortress differ in their design from the newer one, where rooms are filled with sand and pottery and are built at equal spaces, perhaps to relieve the pressure on the 11 meter-wide wall of the fortress.
These rooms may have been used as rainwater drains, a feature of architecture during the Late period of Ancient Egypt.
Hisham Hussein, Director General of the Antiquities of North Sinai, said that excavation work in the northeastern part of the discovered fortress wall resulted in the discovery of the entrance to the fortress, a side gate located in the northeastern part of the wall.
To the right of the entrance the remains of the foundations of a room, believed to be a room for guards stationed to protect the gate, was also discovered.
He added that the excavations also revealed the remains of houses built on the western side inside the castle. At one of these rooms, part of an amulet bearing the name of King Psmatik I was found confirming that the oldest fortress dates back to the first half of the 26th Dynasty, namely the era of King Psmatik I.
He pointed out that the discovered fortress had been subjected to a severe attack which destroyed its walls. Hussein explained that the military fortress at Tal al-Kidwa represented the eastern gate of Egypt and the only fortress controlling entry and exit to and from Egypt during the late period of Ancient Egypt.
Secretary-General of the Supreme Council of Antiquities Mostafa al-Waziry said in a statement on Monday that the excavation is part of the Sinai Development Project, which includes a number of Egyptian archeological missions.
Edited translation from Al-Masry Al-Youm