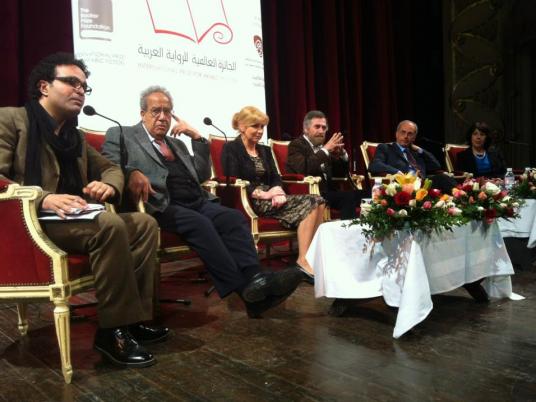 This year's International Prize for Arabic Fiction shortlist, announced in Tunis on Wednesday night, was a surprise to many. Internationally acclaimed authors Elias Khoury, Muhsin al-Ramli, Waciny Laredj, and Hoda Barakat were not to be found on the shortlist, nor were previous IPAF laureates such as Ibrahim Nasrallah, shortlisted in 2009, and Rabee Jaber, who won the prize in 2012.
Instead, the six-strong shortlist was packed with newcomers, including 31-year-old Kuwaiti novelist Saud Alsanousi, 27-year-old Lebanese writer Jana Elhassan, and 33-year-old Saudi writer Mohammed Hassan Alwan, all of whom had published just one previous novel.
Tunisian novelist Hussein al-Wad also made the list with his second novel, "His Excellency the Minister." Although Wad had worked on this novel and his previous one, under the Ben Ali regime, he kept these novels in a drawer for many years, publishing them only after the dictator's fall.
The shortlist's only Egyptian author was also a surprise to some; newspaper editor and television commentator Ibrahim Eissa was shortlisted for his popular novel "Mawlana." The novel, a best-seller that tackles religion, media and state security, is already slated to be made into a TV series.
Many on Twitter and Facebook were surprised to see so many new names on the shortlist, but longlisted author Waciny Laredj was among those who quickly stepped forward to comment on how much he'd enjoyed "The Bamboo Stalk" by Alsanousi, a novel that examines race in Kuwait through the lens of a young man who is half-Kuwaiti, half-Filipino.
The sixth author on the shortlist was Sinan Antoon, whose work is perhaps better-known in English translation than it is in Arabic. The Iraqi novelist, translator, and poet was shortlisted for his 2012 novel "Ave Maria," which follows two characters, one of whom is an elderly Iraqi man who refuses to leave the home he built. The other is a young woman who is living as a refugee in this home.
Antoon remarked over email that, "I didn't expect this shortlist either, but these things are often quite unpredictable!" He noted that his previous novel, "The Pomegranate Alone," had not even made the IPAF's longlist.
Although the 2013 longlist was full of acclaimed novels, judging chair Galal Amin said that the committee found it "rather easy" to go from the list of 16 to six. Amin, a writer and economist at the American University in Cairo, said that, "the novels that we loved seemed to be more or less the same. We didn't quarrel a lot. At all."
Amin spoke at the news conference about Elhassan's "I, She, and the Others." Outside the press conference, he said, "It's not that it's necessarily the best of the six, I don't want to commit myself there, but I loved it. And I found it really breaking new ground. And her treatment of the psychology of the Arab woman was extraordinarily successful."
It was also last night when the identities of the year's five IPAF judges were revealed. Joining Amin were Lebanese critic Sobhi al-Boustani, acclaimed cartoonist Ali Ferzat, Polish professor Barbara Michalak-Pikulska, and Manchester University Professor Zahia Smail Salhi.
Amin's place as the judging chairman gave some pause to those in the literary community who had not forgotten his attack on Mohamed Choukri's "For Bread Alone" in 1999. Critic Mohamed Shoair said that, while he liked the books he'd read on the IPAF longlist, he was concerned that Amin was "conservative and traditional and … anti-experimentation."
The news release that accompanied the IPAF longlist noted that the subject of the Arab Spring still needed time to mature, and Amin and others at the shortlist event underlined that they felt it was "too early" to write about uprisings and revolutions.
IPAF board member Rasheed el-Enany added that, "I think there's no doubt among all concerned that this time will come and there will be great works written about those great happenings."
Amin also discussed the use of colloquial versus classical Arabic in the novels that the judges had read, saying, "You can produce something exceedingly beautiful and appealing and useful by using ammeya [colloquial Egyptian]. But also ammeya could be terribly low and vulgar and does not achieve what a good literary work should."
In addition to the controversies, there was also a great deal of congratulations and celebration.
The youngest novelist on the list, Elhassan, shared her delight in her ebullient style: "Do you know the feeling when everything seems like it's turning upside-down, when everything you endured in life starts to have a reason? I feel like a little girl who just got a home full of candies and wants to share it with the world. I feel like I want to tell everyone to believe in themselves and go chase their dreams."