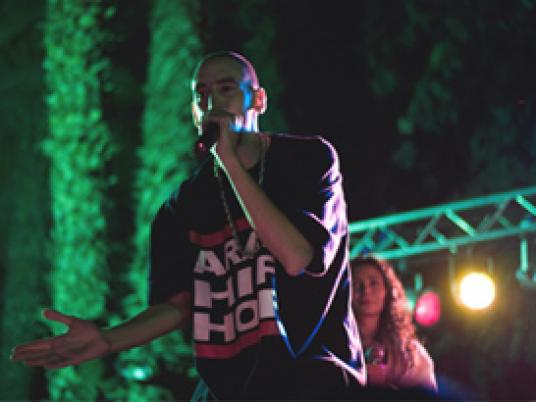 At long last, Egypt's most prominent hip-hop group, Arabian Knightz, released its debut LP, "Uknighted State of Arabia." After multiple pushbacks, censorship delays, threatening calls, trailers, promos and perseverance, the rap crew and its extensive collective of contributors, known as the Arab League, are poised to change the face of rap both regionally and beyond.
Under the foresight of the venerable Arab-American producer FredWreck, who has produced for famed rappers such as Xzibit, The Game, Cypress Hill, Snoop Dogg, Eminem, Mobb Deep and others, "Uknighted State of Arabia" shows an interesting sense of cohesion in the highly collaborative project.
While FredWreck's genius and deep understanding of hip hop can be felt and heard throughout the album, an old-school, New York rap flavor also presents itself in the few tracks co-produced by Wu-Tang Clan members 4th Disciple and Cilvaringz.
Arabian Knightz first came together in 2005, when founding members Karim Adel (Rush) and Hesham Abed (Sphinx) met outside a hip-hop party in Cairo. At the time, Rush had already been working with Ehab Adel (E-Money) on some collaborative productions, and after a few short freestyle exchanges, the three rappers formed Arabian Knightz.
In 2008, they received their first commercial success after releasing their breakthrough singles, "Fokkak," featuring MC Amin, and "Ya Allah," arranged by the legendary Arab hip-hop producer Fahd while also debuting Sphinx on his first Arabic R&B track. "Ya Allah," a spiritual and seemingly prolific track, urges listeners to guard themselves against political groups that manipulate the use of religion for self-promotion and recruiting.
Originally, Arabian Knightz intended to release "Uknighted State of Arabia" in the winter of 2008. However, due to the rappers' dangerously combative lyrics and sociopolitical commentary, the album had no chance of being released under the oppressive restraints of the Hosni Mubarak regime.
Instead of accepting defeat, Arabian Knightz began building an army of musical dissidents, both locally and regionally, under the umbrella of the Arab League collective. The setbacks also gave the crew more time to tweak the album, release several online mix tapes and hone their performance skills at underground hip-hop parties.
The group's constant presence on the scene, in addition to its growing fan base, provided them with notoriety and street credit in the burgeoning regional rap movement through Arabian Knightz's reverberating calls for Arab unity.
On 4 February last year, during the 25 January revolution, Arabian Knightz released yet another single from its long-awaited album titled "Prisoner," featuring Palestinian singer and MC Shadia Mansour. The track was released in the form of a music video, featuring powerful video footage and images from the uprisings.
The song in itself is a form of protest, which can be heard through the chant-like hook, "I want my country free from oppression, free from injustice, free from evil/I want my land and the land of the Arabs," gaining instant attention from international media outlets including Al Jazeera, the BBC and the Washington Post.
After the ouster of Mubarak, Arabian Knightz was again set to release its album through international distribution and entertainment company Melody, only to face government-sanctioned censorship issues yet again.
With a do-it-yourself attitude that has become synonymous with the local and regional rap scene, Arabian Knightz finally realized its dream after deciding to self-release the group's 16-track album under its newly created independent label.
In front of an eager, youth-filled audience, "Uknighted State of Arabia" was officially released on 30 August at the Swiss Club in Cairo. The album features more than 30 contributing rappers from the region including Omar Offendum (Syrian-American), MC Amin (Egypt), Narcisyst (Iraqi-Canadian), Deeb (Egypt), H-Kayne (Morocco), DAM (Palestine), and female singers and MCs Malikah (Lebanon), Shadia Mansour (Palestine), Lana (Egypt) and others.
Though Arabian Knightz's chemistry is stronger than ever, the album's best moments occur when the squad is paired with guest MCs, particularly on the tracks titled "Sisters," featuring Isam Bachiri and Mansour; "My Time," featuring Cilvaringz from the famed Wu-Tang Clan; and "Donia," featuring Magdy el Hossainy, Nihal Ambar and Hossam L Hossainy.
"Sisters," which is something of an empathetic and apologetic ballad to females all over the world who face gender inequalities, was pre-released on 22 December as a reaction to the savage beating of an abaya-clad female protester in downtown Cairo who became internationally known as "the girl in the blue bra." The track is endearing, poetic and beautifully arranged by 4th Disciple.
When looking at the formula and collaborative techniques that Arabian Knightz uses within its debut album, it becomes clear that Wu-Tang Clan has deeply influenced the rap crew both in production and through its utilization of affiliated artists.
One of the more notable aspects of "Uknighted State of Arabia" is the group's unique ability to mix Western influences, their own original beats, Arabic instruments and Egyptian samples from artists such as Abdel Halim Hafez, while also incorporating classical styles of singing familiar to the region, as seen in tracks such as "Domoaa al-Madina" (Tears of the City).
Another highly unique moment on the album comes in the form of a song titled "Es'ha," (Wake Up), which not only features local leading solo artist MC Amin but also shaaby vocalists El Husseiny and El Fashny. The track champions the recent shaaby music sensation taking over Egypt, but makes the genre more understandable to a Western audience, through the arrangement created by Jamil Nafar.
While "Uknighted State of Arabia" might not speak to all listeners on a musical level, the crew's debut LP and its extensive list of regional contributors succeeds in solidifying Arabian Knightz and its Arab League hip-hop network as one of the hardest-working and most promising collectives in the regional rap game.
Arabian Knightz's "Uknighted State of Arabia" is available for purchase on iTunes.
This piece was originally published in Egypt Independent's weekly print edition.