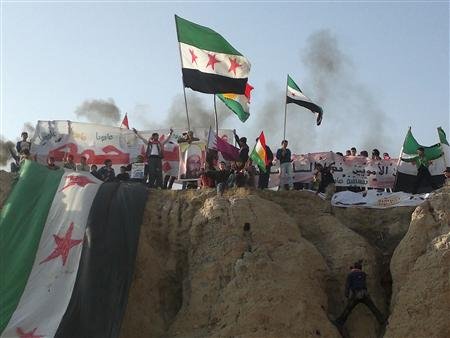 Arab states, divided over how to handle the crisis in Syria, are likely to extend a peace mission there which critics say is handing President Bashar al-Assad more time to kill opponents of his rule.
Arab foreign ministers were gathering in Cairo on Sunday to debate the findings of the month-long monitoring mission, whose mandate expired on Thursday, and must decide whether to extend, withdraw or strengthen it.
Some want to crank up pressure on Assad to end a 10-month-old crackdown on a popular revolt in which, according to the United Nations, more than 5,000 people have died.
Others worry that weakening Assad could tip Syria, with its potent mix of religious and ethnic allegiances, into a deeper conflict that would destabilize the entire region, and some may fear the threat from their own populations if he were toppled.
The head of the monitoring effort, Sudanese General Mohammed al-Dabi, was in the Egyptian capital to present his report to ministers, who were due to meet after a gathering of the Arab League's Syria committee.
Hundreds of people have been killed during the monitoring mission, sent to assess Syria's implementation of the Arab plan, which was originally agreed in early November.
Syrian opposition activists said Assad's forces killed 35 civilians on Saturday and 30 unidentified corpses were found at a hospital in Idlib. The state news agency SANA said bombs killed at least 14 prisoners and two security personnel in a security vehicle in Idlib province.
Stronger mission?
Maintaining the 165 monitors, and perhaps giving them a broader remit, could give Arab states more time to find a way out of the crisis.
The Qatar-based news channel Al Jazeera, citing an unnamed source, said Dabi planned to tell ministers that the Syrian government had not done enough to respect the peace protocol and to request that the mission be extended.
The head of the Arab League, Nabil al-Araby, met several Arab officials on Saturday and a source close to the League said the ministers could decide both to extend the mission and to offer it additional support in the form of U.N. or military experts.
Qatar and Saudi Arabia, regional rivals of Syria and its ally Iran, are impatient for decisive action against Assad and Qatar has suggested sending Arab troops to Syria.
The League is due to discuss the suggestion but military action against Assad would need unanimous backing and several countries still believe in a negotiated solution, League sources say. Some of Assad's opponents say they gave up hope of help from Arab governments long ago.
On Saturday, the opposition Syrian National Council (SNC) formally asked the Arab League to refer the Syrian crisis to the United Nations Security Council.
"We think that when the Arab League refers the case to the United Nations and to the Security Council the situation will change," SNC spokeswoman Bassma Kodmani said in Cairo.
But the Security Council is also split on how to address the crisis, with Western powers demanding tougher sanctions and a weapons embargo but Assad's ally Russia preferring to leave the Arabs to negotiate a peaceful outcome.
Suggestions to send in UN experts to support the Arab observers made little headway at the last meeting earlier this month and Damascus has said it would accept an extension of the observer mission but not an expansion in its scope.
Syria, keen to avoid tougher foreign action, has tried to show it is complying with the Arab peace plan, which demanded a halt to killings, a military pullout from the streets, the release of detainees, access for the monitors and the media, and a political dialogue with opposition groups.
This month the Syrian authorities have freed hundreds of detainees, announced an amnesty, struck a ceasefire deal with armed rebels in one town, allowed the Arab observers into some troublespots and admitted some foreign journalists.
Assad also promised political reforms, while vowing iron-fisted treatment of the "terrorists" trying to topple him.
SNC chief Burhan Ghalioun told reporters that the observers were not properly equipped to give a fair assessment of Syria's compliance with the Arab peace plan and his group would reject any findings that fell short of the Syrian people's aspirations.