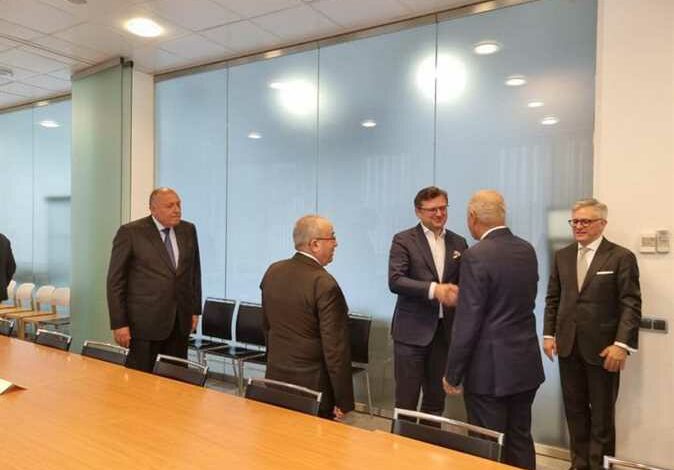 Ministers from the Arab Contact Group and the Secretary-General of the Arab League held a consultation session with Ukrainian Foreign Minister Dmytro Kuleba, in the Polish capital of Warsaw.
At the beginning of their visit the delegation had met with Polish Foreign Minister Zbigniew Rau before their scheduled meeting with Ukrainian Minister of Foreign Affairs.
The spokesperson for the Egyptian Foreign Ministry Ahmed Hafez said that Egypt's Foreign Minister Sameh Shoukry, the foreign ministers of the Arab Contact Group on the crisis in Ukraine, and the Secretary-General of the Arab League arrived, on Tuesday at Warsaw from Moscow.
The Arab ministerial delegation visited the Russian capital earlier on Monday, and held talks with Russian Foreign Minister Sergey Lavrov.
Shoukry revealed that the Arab countries offered to mediate in resolving the ongoing crisis between Russia and Ukraine.
During a press conference in Moscow, Shoukry said that "the Arab contact group on Ukraine stressed, during its talks in Russia, the importance of facilitating the exit of Arab communities in conflict areas and ensuring that the conflict does not affect other countries."
"The Arab countries are aware of the seriousness of the repercussions of the crisis in Ukraine on international peace and security," he explained, and called to stop the war and resort to peaceful solutions in the crisis.
Shoukry stressed that the Arab countries support the path of direct negotiations between Moscow and Kiev.
And Arab League Secretary General Ahmed Aboul-Gheit affirmed that the Arab position affirms support for all efforts to solve the Ukraine crisis through dialogue and diplomacy.