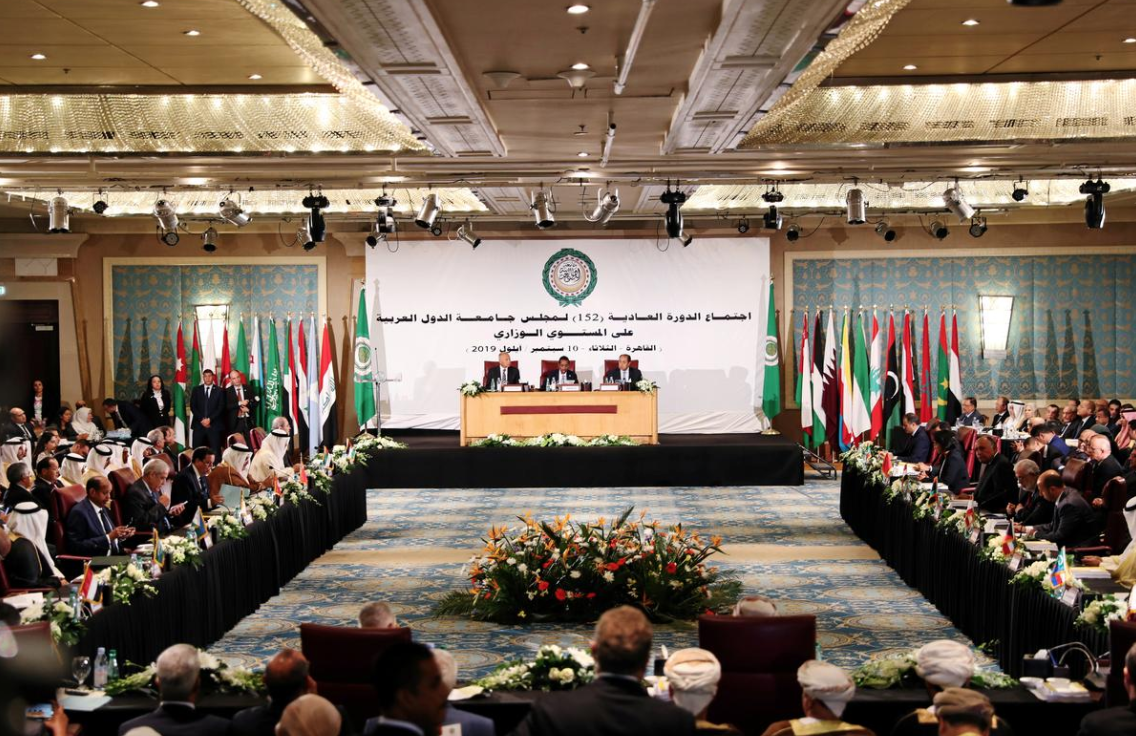 The Arab League announced on Tuesday that it opposes any kind of "foreign interference" in Libya's internal affairs, stressing its support for a political solution to ongoing violence in the war-torn country, amid heightened tensions between Turkey and its neighbors in the Mediterranean.
During an emergency meeting of the Arab League Council, which was held in Cairo yesterday at the request of Egypt, the Arab League underlined the importance of involving neighboring countries in international efforts to reach a political settlement to the Libyan crisis.
Egypt, which has backed Khalifa Haftar's Libyan National Army (LNA) against the UN-supported Government of National Accord (GNA) in Tripoli, called the meeting to discuss current developments in Libya and present a unified Arab position regarding what it calls "illegal" foreign interference in the Libyan crisis.
The Arab League expressed grave concern about the military escalation in Libya, which it said threatens the security and stability of the Mediterranean region and the country's neighbors, stressing as well that a political settlement —based upon the framework set by the 2015 Skhirat Agreement — remains the only way to restore stability in Libya and combat the influence of "terrorist" groups.
The Arab League also said that foreign military intervention in Libya would facilitate the movement of foreign extremist fighters from other areas of regional conflict to Libya, in violation of international resolutions on the arms embargo.
Turkish President Recep Tayyip Erdogan announced last week that Fayez al-Sarraj's Tripoli-based government had requested that Turkey send military forces to support the GNA against Haftar's offensive, and reports have come in that Turkey is also working to transport rebel militia fighters from Syria to Libya to support the GNA.
France, Russia, Egypt, Jordan, and the United Arab Emirates have supported Khalifa Haftar's self-styled Libyan National Army, which launched an offensive to capture Libya's capital Tripoli last spring. Turkey, Qatar, and Italy back the UN-supported GNA.
Erdogan has said that attempts to marginalize Turkey's role in the Mediterranean have failed, pointing to recent steps taken by Ankara to shore up its influence in the region
On Tuesday, Erdogan signed a memorandum authorizing the dispatch of Turkish forces to Libya, and the memorandum was submitted to parliament on Wednesday. The Turkish president is expected to get the green light from Turkey's Parliament between January 8-9, which would mean deployment of Turkish troops as early as this month.
Meanwhile, Turkish Defense Minister Hulusi Akar said that the memo has allowed Turkey to take strategic steps to protect its "rights" in the Mediterranean.
In early December, Sarraj and Erdogan signed two memorandums of understanding that sparked new tensions in the Mediterranean. The agreements discuss contentious maritime boundaries in the Mediterranean Sea and aim to boost security and military cooperation between the two countries, a move that Egypt and Greece have both rejected.
Edited translation from Al-Masry Al-Youm