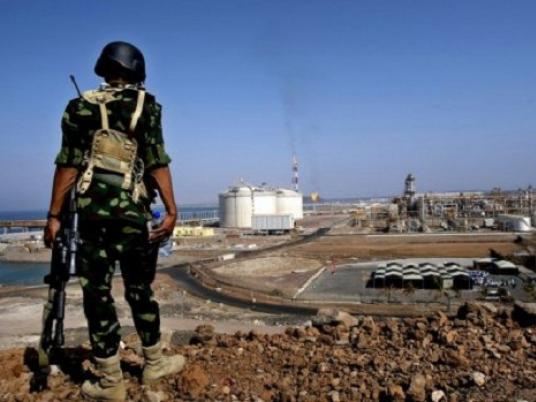 Arab coalition forces have launched operations against militia boats of Yemen's Houthi group that struck a logistics ship that was on a humanitarian voyage in a strategic Red Sea shipping lane, the Saudi-led alliance said.
The vessel, an Australian-built high-speed logistics catamaran under lease to the United Arab Emirates military, was attacked by Houthi fighters near the Bab al-Mandab strait off Yemen's southern coast on Saturday, according to officials from the Saudi-led coalition.
Coalition forces rescued its civilian passengers. No crew were hurt.
In a statement late on Saturday, the coalition said the vessel belonged to the UAE Marine Dredging Company "on its usual route to and from Aden to transfer relief and medical aid and evacuate wounded civilians to complete their treatment outside Yemen."
"Coalition air and naval forces were targeting Houthi militia boats involved in the attack," it said.
The coalition said the incident showed that Houthi tactics involved what it called "terrorist attacks" against civilian international navigation in the waterway.
The Houthis said on Saturday, however, that their forces had destroyed a UAE military vessel that was advancing toward the Red Sea port of Al-Mokha.
"Armed forces destroyed with a missile a military vessel belonging to the forces of the UAE," a military official was quoted as saying by the Saba Yemeni news agency, run by the dominant Houthi movement since it seized the capital, Sanaa, last year.
The U.S. State Department condemned the attack, called on the Houthi group to stop attacks against vessels and said the United States "remains committed to upholding freedom of navigation" through the strait.
"These provocative actions risk exacerbating the current conflict and narrow the prospects for a peaceful settlement," State Department spokesman John Kirby said in a statement, calling on all parties to return to U.N. negotiations aimed at de-escalating tensions in the conflict.
Hundreds of Emirati soldiers in an Arab alliance have been fighting Yemen's Iran-allied Houthis, and training Yemeni troops in Aden to help rebuild a state loyal to exiled President Abd-Rabbu Mansour Hadi.
In 2013, more than 3.4 million barrels of oil a day passed through the 20-km (12-mile) wide Bab al-Mandab strait, according to the U.S. Energy Information Administration.