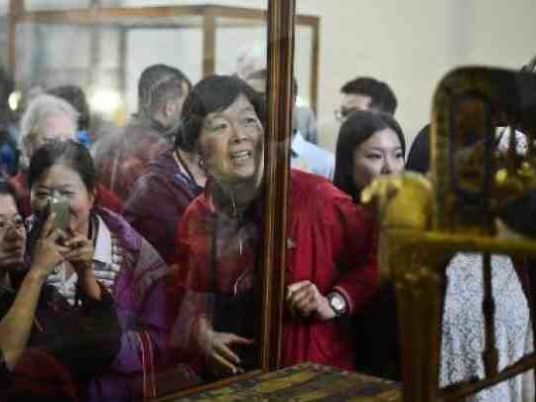 The golden mask of Pharaoh king Tutankhamun has sustained damages after conservations inside the Egyptian Museum ended with gluing marks on one of Egypt's most famous pieces of antiquities, the Associated Press reported Wednesday.
The mask's beard, probably loose, was knocked by accident in 2014, according to museum workers who spoke to AP on condition of anonymity fearing reprisal by their superiors. They said that the officials ordered the beard to be glued back immediately in order for the piece to be ready for display.
"Unfortunately he used a very irreversible material — epoxy has a very high property for attaching and is used on metal or stone but I think it wasn't suitable for an outstanding object like Tutankhamun's golden mask," AP quoted one conservator as saying. "The mask now shows a gap between the face and the beard, whereas before it was directly attached:Now you can see a layer of transparent yellow," he added.
The situation worsened further, according to the employees, when attempts were made to remove the stains with a spatula, leaving scratches to the 3,300-year-old item.
However, the Egyptian Museum's general manager, Mahmoud al-Helwagy, said in November that the mask was fine, denying the damages. "Reviewing the archives and the old photos, it appears that the beard was not changed," he told state-run news agency MENA, he said the museum welcomes anybody eager to check on the mask.
An investigation by UK-based al-Araby al-Jadeed has blamed the museum's conservation manager for the damage, also quoting unnamed employees who said that their objection to the incident would be met with administrative penalties.