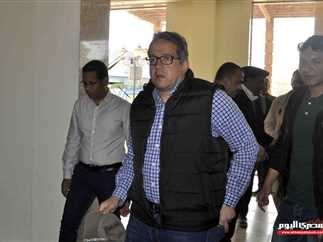 Minister of Antiquities Khaled al-Anani announced that the ministry is in the process of announcing three important archaeological discoveries in the governorates of Sohag, Luxor and Giza, adding that the ministry is currently working on projects to remove underground water from archaeological sites and has already implemented three projects at a cost of LE300 million.
"We have three discoveries, the first of which we will announce this weekend from Sohag. Then two weeks later [the second will be announced] in Luxor, and [the third will be announced] at the beginning of May in Giza. Besides the discoveries, we will inaugurate projects. Recently an important project was launched on groundwater that threatens the monuments," Anani told Russian news agency Sputnik on Saturday.
"Some of the artifacts have sunken since they were discovered, such as the Koum al-Shakafa area in Alexandria and the Kom Ombo Temple in Aswan Governorate," he said.
"We inaugurated three groundwater projects in 32 days at a cost of LE300 million. On March 3, we opened the Kom al-Shakafa area project in Alexandria. On March 25, we inaugurated the Kom Ombo project in Aswan, and on April 5 the Ozrion area in Sohag," he added.
It is possible that groundwater caused the collapse of these temples, so the ministry has been working on groundwater management in order to save the sites, he mentioned.
Anani noted that two of these projects were funded by the US Agency for International Development (USAID).