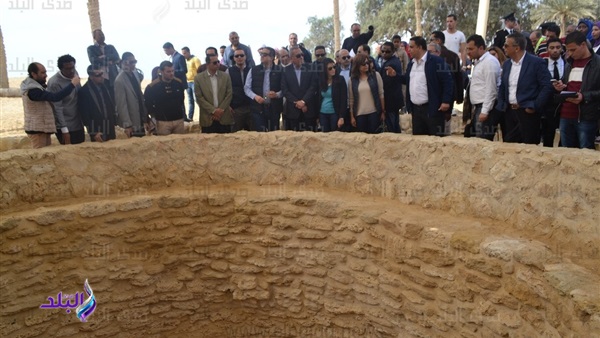 Six ambassadors took part in the opening of the first phase of the rediscovery and purifying of "Ouyoon Moussa" (Moses' Wells) in the Sinai desert.
Minister of Antiquities Khaled Anani declared the presence of such foreign icons to prove that Egypt has the world supporting it in its war on terror, because not only does terrorism pose a threat to Egypt, it poses a threat to the whole region.
The six countries that sent ambassadors were from: Brazil, Argentina, Cyprus, Cuba, Chile and Belgium. Anani also said they insisted on being there themselves to prove that Egypt is a safe country.
In addition to Anani and the ambassadors, Suez governor Ahmed Hamed, Minister of Tourism Rania El-Mashat and several Suez parliamentarians took part in the opening.
Anani said that relations between Egypt and several Latin American countries are prosperous, and that he received calls from Latin American representatives after the launch of a wide anti-terror operation of n Friday where the ambassadors asked to accompany him to visit Ouyoon Moussa.
Anani also said that the Ministry of Tourism has conducted several renovations especially to the infrastructure of the area, as Ouyoon Moussa is considered an important stop for anyone interested in the holy sites of south Sinai.
Renovations in their first phase included the purification of wells that were buried under the sand, as well as covering them.
He added that a second phase of renovations will begin as soon as the specialized committee for building gives approval.
The first phase cost LE3 million, while the total cost of the renovations will be LE8 million.
Brazilian and Cuban ambassadors expressed to the media their joy to be present in Ouyoon Moussa as the site is considered holy as well as historically important, adding that Sinai is safe and that they appreciate the Egyptian army's efforts to cure the region and the world of terrorism.
Hamid added that the second phase of renovations will take place over 65 acres and will begin after measuring the designated area. After that a mall will be consteucted.
Anani decided to begin charging visitors of the area LE40 for foreign tourists, LE20 for foreign students, LE10 for Egyptian tourists and LE5 for Egyptian university students. Entrance is free of charge for people with disabilities, elderly and students of both primary and secondary levels.