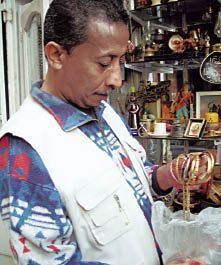 Antique galleries started popping up throughout Zamalek and downtown in the early twentieth century, when there was a growing bourgeois class. At that time, the industry was largely run by Italian and Greek dealers.
Mohamed Hefny, an antique dealer, told the London-based Al-Hayat newspaper that inexperienced dealers today have hurt the trade. "They cannot tell the difference between an original piece and a replica," he says.
Hefny buys antiques from rich families living in the downtown area. "Sometimes they are not aware of their real value," he says. "They just want to get rid of them."
Amgad Ali, an antique dealer in Zamalek, says the new generation has different taste. "Many of them inherited antiques they find kitsch," he says. "I am sometimes lucky to find an old painting or a bronze statue among them. Selling just one original piece brings back the losses of a whole year. One must be patient in this trade."
His pieces are piled up all over the place, leaving no room for the customers to move. "This is how I like to exhibit them," he says. "I want the customer himself to find the piece he likes."
Among the pieces displayed are statues, silver lighters, sculptures carved in ivory, gold cigarette packs and old paintings. "Some of them I bought from second hand dealers. They do not know the value of these items."
"I deal in anything old," he says. "Other dealers specialize in certain items, such as old watches, coins, carpets … etc."
"I also sell in auctions, but there are not many around like there used to be in the forties and fifties," he says.
"Antiques have their charm," he says. "And buying antiques is a beautiful hobby."
Edited translation from Al-Masry Al-Youm