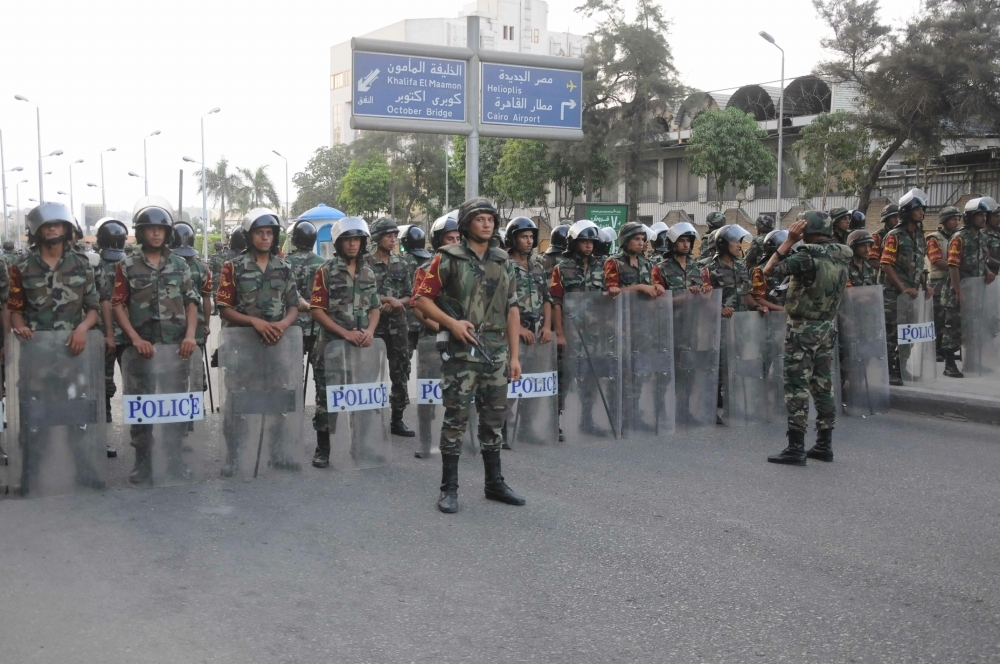 In their tens of thousands, they shouted, whistled and blew car horns, waiting anxiously after a deadline passed in the Egyptian military's high-stakes showdown with Islamist President Mohamed deMorsy.
As reports came in that the military was deploying dozens of armoured vehicles near Islamist gatherings elsewhere in the capital, the anti- Morsy protesters frantically waved Egyptian flags in and around Tahrir Square.
"Egypt, Egypt" and "Leave, Leave," they chanted outside the defence ministry building.
With broad grins, they sang patriotic songs they have become accustomed to hearing as the same tunes have been pumped out on state television in the weeks leading up to the crisis.
" Morsy deserves his end. He was the president of the Muslim Brotherhood, not of Egypt," said Cairo resident Amr Mohammed, who carried his 40-day-old daughter in his arms as he marched to the Ittihadiya presidential palace.
A group of housewives put a table in the street and handed out dates and free cups of water, as celebrations erupted when a television station reported that Morsy had been placed under house arrest.
Upon hearing the rumour, one elderly man kneeled down on an Egyptian flag and said "Allahu Akbar" (God is greatest).
That report proved unfounded, but officials did say that security forces had imposed a travel ban on Morsy and his top Islamist allies over their alleged involvement in a 2011 prison escape.
Abdel Khalek Abo Risha, 56, who come to the protest from Tanta city in the Nile Delta, said: "I only expect Morsy to be toppled. No other options".
Nehal Serry, a woman who helped to organise the refreshments, said: "This is for the sake of Egypt. We are celebrating that we are getting rid of Morsy ".
Tens of thousands of people massed in Cairo's Tahrir Square for an anti-Morsi protest that dwarfed a rally by the embattled president's supporters across town in Nasr City.
"Come here O Sisi, Morsy isn't my president," the protesters chanted in the square, referring to army chief and defence minister, General Abdel Fattah al-Sisi.
In scorching heat, police officers handed out bottles of water to the demonstrators crammed around their patrol vehicle in the middle of Tahrir, epicentre of the Arab Spring-inspired uprising in 2011.
The powerful military had issued a 48-hour deadline on Monday for Morsy to meet the "people's demands", a day after millions of protesters took to the streets across the troubled country calling for him to resign.
But thousands of people had gathered in Nasr City in a show of support for Morsy, despite an attack by a group of men that killed 16 of them and left 200 injured overnight.
However, that was before the military moved in to disperse them, with AFP correspondents reporting that they had seen dozens of armoured personnel carriers ominously heading to Islamist gatherings at Cairo University, Heliopolis, and Nasr City.
Other parts of the capital were eerily quiet, as many chose to stay at home in fear of becoming caught up in more bloodshed.
"I'm so worried, the future of my country will be written in the next few minutes," said one taxi driver as he waited for passengers in a neighbourhood where the shops were all boarded up.