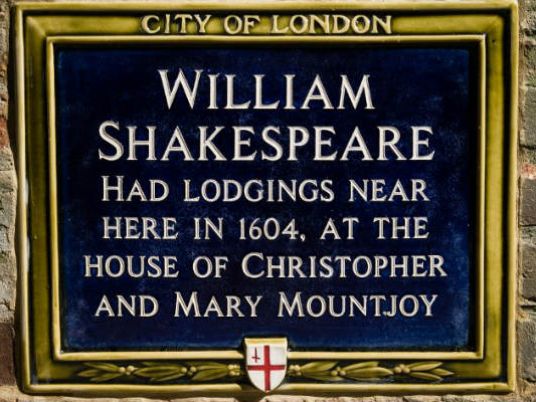 A plaque was unveiled in central London on Thursday marking the place where William Shakespeare lodged in the city, in time for the 400th anniversary of the playwright's death.
Actress Fiona Shaw read out Shakespeare's "Sonnet 55" , while hand bell ringers and a children's choir gave performances.
"William Shakespeare had lodgings near here in 1604, at the house of Christopher and Mary Mountjoy", the blue plaque reads.
The plaque has been installed on a low brick wall in Noble Street, by remains of the Roman wall surrounding the City of London, and among its modern concrete and glass towers.
It was unveiled by David Wootton, a former lord mayor of the city.
Nicholas Kenyon, managing director of the nearby Barbican Centre performing arts venue, told AFP: "We wanted to install a blue plaque here because this is very near the place where Shakespeare lodged in the city.
"It was always known that he had been here but it was only recently that it was established where it was."
The 400th anniversary of Shakespeare's death on Saturday will be marked in his hometown of Stratford-upon-Avon, central England, with a day of theatre, dancing, music and parades.
Some of Britain's finest actors are returning to the town's Royal Shakespeare Theatre to perform his most celebrated scenes, in a special show being broadcast live on British television and to cinemas around Europe.
Irish actress Shaw, who has worked extensively with the Royal Shakespeare Company, which is based at the Stratford theatre, said the anniversary had triggered a reawakening of awareness about the Bard.
"In this 400-year celebration of his death, we are noticing absolutely everything about Shakespeare: where he was, maybe to the point you can't believe the person existed. So we are reminding ourselves of him and his greatness," she told AFP.