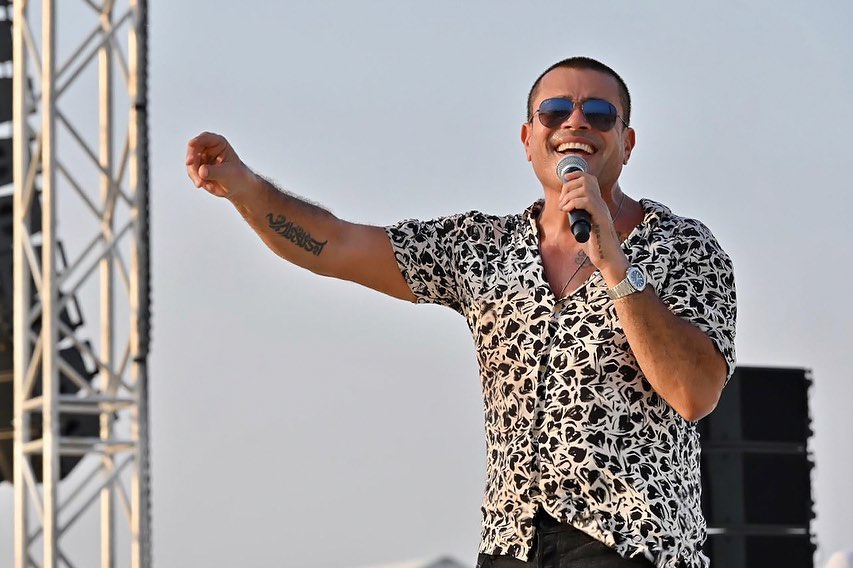 After two weeks of promoting his latest album "Ya Ana Ya Laa", singer Amr Diab is ready to release his album Friday evening at 8 pm.
Diab promised his fans songs that carry joy and artistic diversity, as usual in his albums and his singing career, which has stretched over more than 33 years.
Ya Ana Ya Laa" will be the Diab's second album in 2020, as his album "Sahran" was released last February.
The artist also dropped several singles throughout summer, including "Amaken al-Sahar", "al-Gaw Gameel" and "Ahe".
Diab's fans on social media were excited to hear the date of the album's release, expressing their eagerness for it.
Diab released his song "Ya Ana Ya Laa" two weeks ago. After just a few hours, the song was trending on YouTube and Twitter.
Over the past few days, the albums ad campaign took to the streets of Cairo. The singer appeared on billboards wearing a black shirt with white dots.
"Ya Ana Ya Laa" is written by Ayman Bahgat Qamar, composed by Mohamed Yahya, and distributed by Adel Hakky.
Diab also released another song on the album, "Mahsoud", which is written by Turki al-Sheikh, composed by Khaled Ezz, and composed by Adel Hakki.
The singer launched a challenge on social media among his followers and other singers to sing the song.
A number of famous singers participated the challenge including Wael Gassar, Mohamed Mohsen, Carmen Suleiman, Ramy Sabry, Ramy Gamal and Ahmed Gamal.
Diab recently held a special concert at Abdeen Palace in the presence of a group of media, art and society stars, during which he sang part of "Mahsoud".
Edited translation from Al-Masry Al-Youm