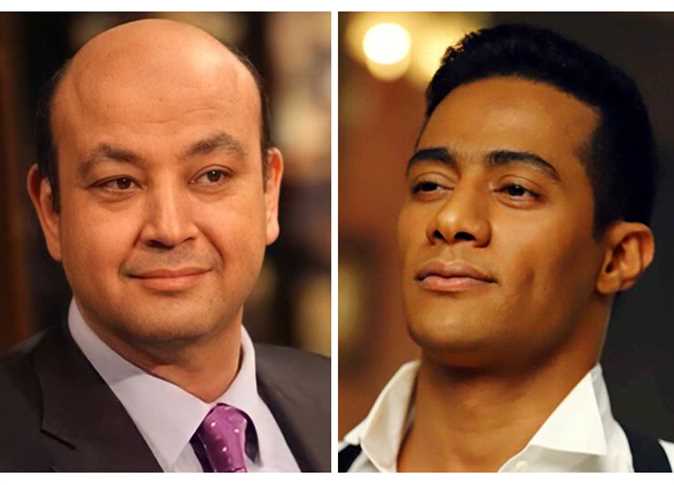 Egyptian media host Amr Adib announced on Friday that he has filed four reports against Mohamed Ramadan with the Public Prosecution, accusing Ramadan of slander after the actor/singer uploaded various videos online mocking Adib.
Adib said that his attorney Tarek Jameel Saeed filed the lawsuits. During his show "al-Hekaya" (The Story) on MBC Misr Channel, Adib explained that he feels that this is an assault on his character.
"I am not one of those who like to file reports (with the prosecution), but one must take his right by the law. Whatever is determined by the law and the judiciary, I will comply with it," Adib stressed.
"I want my right… because I am not a bully, and I take my right by the law, not by insulting, and any money I will get as compensation I will donate to Abu al-Rish Children's Hospital, and since we are in Ramadan, I will equal the amount from my pocket," he pledged.
"I don't want money from him (Ramadan), he can throw it in the basin, or up in the air like what he does. Before the law and the judiciary, we are all equal. He is not number one, nor am I the greatest journalist. I am the complainant and I want my rights back."
This incident began following recent criticism from Adib towards Ramadan after a court ruling ordered that that actor pay LE six million in compensation to pilot Ashraf Aboul Yousr.
Ramadan was shown in a video throwing money into a swimming pool, which prompted Adib to comment, "People struggling to get some and you throw it … even if it is fake."
Adib addressed Ramadan, saying: "This country has a law that applies to everyone… It's the problem of some people that they become accustomed to taking life impulsively, and they feel that they are supported."
"I don't have a problem in disagreeing with anyone in anything, but when we reach the impoliteness, the law remains the one that rules."
On April 7, the Cairo Economic Court awarded pilot Ashraf Aboul Yousr with LE six million in his lawsuit against Ramadan, wherein Aboul Yousr demand LE25 million in damages.
The lawyer representing Aboul Yousr, Magdy Helmy, stated that his client suffered material and moral damages after Ramadan published a picture on social media in a plane's cockpit in October 2019.
The lawsuit alleges that Ramadan used the image to promote his new song "Mesh Batfatesh fel Matar" (I am Not Searched at the Airport), which included the image of him piloting the plane.