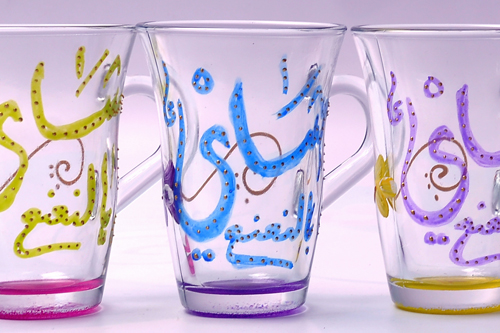 Lara's Crafts first launched in Amman, started by two young women with great ambitions. Almost 10 years later, Lara and Luna Kawash have brought a transformed and more mature concept of their business to the Egyptian market.
Since 2010, Lara's Crafts has become a prominent manufacturer of tinted glass and home accessories.
"We started small in Amman through open houses," explains Luna Kawash. Open houses are bazaars set up in people's homes that usually last a couple of days. In 2009, the Kawash sisters re-launched their brand and, to cater to the increasing demand, opened a workshop in a poor Amman area, where they offer jobs to more than eight underprivileged families.
The following year, Luna Kawash moved to Cairo and brought the brand to the Egyptian market. "We believe in developmental work through art," she says.
The pieces are mixtures of Arabic calligraphy and old Islamic patterns.
"We started on a smaller scale, selling only tinted glass plates and coasters," the designers say.
The main themes used in the Kawashes' work are flowers, leaves, calligraphy and the hand of Fatima.
In February 2011, Lara's Crafts started a partnership with Style Treasure online boutique. Most of its products are being shipped from Amman to Cairo.
"We are sourcing some glass workshops in Egypt for special products, in addition to the Egyptian-made copper plates for the Qahwati collection," Luna Kawash explains.
All products are hand-painted, from coffee and tea cups to copper trays, glasses and porcelain pieces. Aside from their workshop in Hashimi al-Shamali in Amman, Lara's Crafts plans to open a workshop in Egypt next year to spread their belief in developmental work.
"Calligraphy is highly appealing to the Egyptian market, but normally what sells in Amman sells in Egypt," Kawash says. "It is a big and welcoming market, compared with the small market of Amman."
Lara's Crafts products are available on Style Treasure online boutique, Kaff Fatemah boutique in Maadi and Dandy Mall. Prices range from LE70 to LE360.
This piece was originally published in Egypt Independent's weekly print edition.