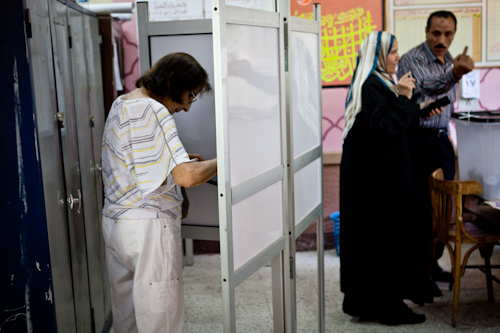 Egypt's political sphere should be occupied by discussions about the forthcoming presidential elections, set to begin in a few months, in preparation for the end of President Abdel Fattah al-Sisi's current term in June 2018. However, as no candidate announced their intention to run for president, people interviewed by Egypt Independent hope that a conclusion of Sisi's term can signal the end of Egypt's stagnation, while others assert that electing a military man, be it Sisi, or any other, is what this country needs for the time being.
Ahmed Hussein is a fresh graduate from the faculty of Commerce at Cairo University and is currently working as an accountant at a private sales company in Giza, and since his graduation he observed that hikes have dominated prices in Egypt in an unprecedented way.
"Media apparatuses in Egypt are asserting that the recent economic measures conducted by the government such as lifting state subsidies on fuel and the floatation of the Egyptian pound are measures that will lead to economic growth, however things are going worse" he said.
Ahmed noted that despite the fact that there are nearly eight months before the presidential elections, there is no clear declaration from a public figure or a political party that has released their stance from the upcoming elections.
He added that the current President Abdel Fattah al-Sisi also did not clarify clearly whether he will run for the 2018 presidential elections or not, which he thinks is leading to a 'hazy' political atmosphere.
In August, Sisi hinted at his intention of running for a second term in office, on the condition that the Egyptian people want him to continue in office for another four years. However no official announcement has been made.
"I can never fail to respond to the will of Egyptians," said Sisi.
"I am subject to the will of the Egyptian people, and if their will dictates that I run for another term, then that's what I will do."
"With the aforementioned factors, Egyptians may face only the probability of the presence of only one candidate who might be Al-Sisi. There are no other candidates and this has raised questions on the integrity of the upcoming elections, or fears of being a subject to defamation campaigns," Hussein explained.
"We should wait until things become clear, however I personally need to elect a presidential candidate who is capable to ending the current economic sufferings of Egyptians and work hard to provide support for Egyptians" he explained.
Abdel Nasser Reda, 29 years old, who works at an IT department for an Oil and Gas company, echoes Hussein's sentiments.
"Even though I'm pretty sure he won't be running, if I were to choose a candidate it would be Mostafa Hegazy. But it doesn't even make a difference," Reda said.
Reda believes that anyone who chose to run against President Sisi, if he were to run again, would lose the elections.
"I want someone with a clear vision and answers on how to effectively deal with Egypt's main problems. What will he plan to do with the opposition? Will he silence them? Will he integrate them in the political sphere? What about Egypt's military role in the economy?" Reda questioned.
"I want whatever candidate that comes ahead to acknowledge that there is a political situation that needs actual reform, not just vague promises," he added.
Meanwhile, middle aged state employee Ali Gozlan stresses that the two revolutions that hit Egypt should leave radical change on the political lives of Egyptians, hinting at the necessity of following democratic procedures in any presidential race.
On his predictions for the 2018 elections, he noted that the absence of any serious candidate until now will lead to non-expected participation from the people; therefore the winner will be the current President who is Abdel Fattah al-Sisi.
"Egypt is currently suffering from the non presence of a serious presidential candidate or even accurate program from a political party or entity; I myself prefer to elect any presidential candidate who was serving in the Egyptian Military," he explained.
Regarding his expectations on figures who may run in the 2018 presidential elections, Gozlan said that he is expecting that the Mubarak-era chief of staff of army Sami Anan will participate as a candidate. "He is my favorite potential presidential candidate, if he participated in the elections, then I will address my vote to him," he stressed.
Similarly, Atia Abdelhamied who is also a state-employer, agreed with Gozlan on the necessity of electing a candidate who was a military officer such as Sami Anan or the former Prime Minister Ahmed Shafiq who is currently based in the UAE.
"The current performance of Abdel Fattah al-Sisi affected badly the economic status of Egyptians and this left negative effects on his popularity that he gained after ousting affiliated Muslim Brotherhood former President Mohamed Morsi, so Egyptians including me now are searching for an alternative who can make radical reforms in the economy and be able to also face terrorism,"he concluded.
Former presidential candidate and former Prime Minister Ahmed Shafiq said earlier this month that he will announce "within weeks" whether or not he will run in next years presidential elections.
Tarek Amin, however, has a rather distinct point of view. He believes that any presidential elections taking place next year or any candidate announcing his intention to run  "would only be part of a show."
"It won't be real. For the elections show to take place, there has to be actors, a scriptwriter, and a director. Any candidate coming in can fill in the empty roles. It doesn't matter from what background, because I know for sure he won't be winning," Amin, a 56 year old doctor, said.
Even though Amin has hopes and dreams for Egypt to grow and prosper, he says, "What I want has no value."
"Nothing I want is of value in this country.  We're all part of a big show," he added.
Founder of al-Tayaar al-Shaabi (The Popular Current), Hamden Sabbahi, announced that he would not run in the upcoming presidential elections.
Sabbahi ran for president in the 2012 and 2014 elections. He obtained over 4 million votes, coming in third in the first round of the 2012 elections, while obtaining under a million votes in the 2014 elections — losing by a massive margin to current president Abdel Fattah al-Sisi. He founded the Nassrist al-Karama party in 1996, and has led al-Tayaar al-Shaabi since 2012.