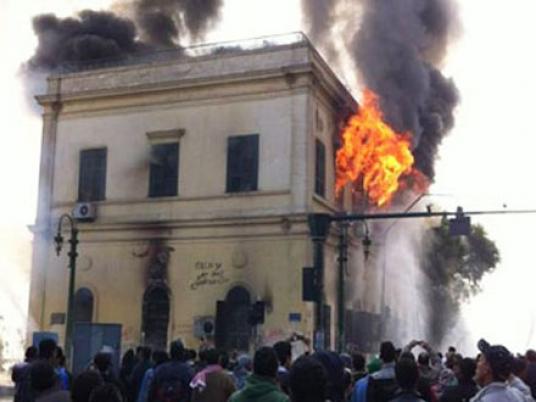 A fire that engulfed the building of the historic Egyptian Scientific Institute on Saturday morning has been extinguished. The extent of the damage has not yet been determined.
The fire started on the lower floors of the building, which is on Qasr al-Aini Street in central Cairo, but later reached the higher floors. The firemen, who arrived very late at the site, could not initially control the fire.
State news agency MENA said that firemen eventually managed to control it, but state TV reported that the fire damaged the whole building and all of its collections.
The building is adjacent to the Shura Council building, and both MENA and state TV accused protesters of throwing a Molotov cocktail at the institute.
Eyewitnesses were reported to have seen protesters throwing a Molotov cocktail at stone-throwing soldiers at the Shura Council building, but the projectile missed the intended target and instead landed in the Egyptian Scientific Institute.
The website of Youm7 newspaper alleged that a protester was set on fire after trying to set the building on fire. No other source confirmed this news.
The institute is considered the oldest scientific institute in Egypt. It was established as L'Institute d'Egypte in August 1798 by Napoleon Bonaparte during the French invasion of Egypt. Its mission is to advance high quality research in various fields, ranging from biology and mathematics to fine arts and archaeology. Its library contains more than 200,000 books, including the original volumes of the "Description de l'Égypte" (Description of Egypt), begun in 1798 by French scientists in Egypt.
Professor Mahmoud al-Shernoby, the president of the institute, told state TV in a phone interview that the damage is a "great loss" to Egypt and that those "who caused this disaster should be punished."