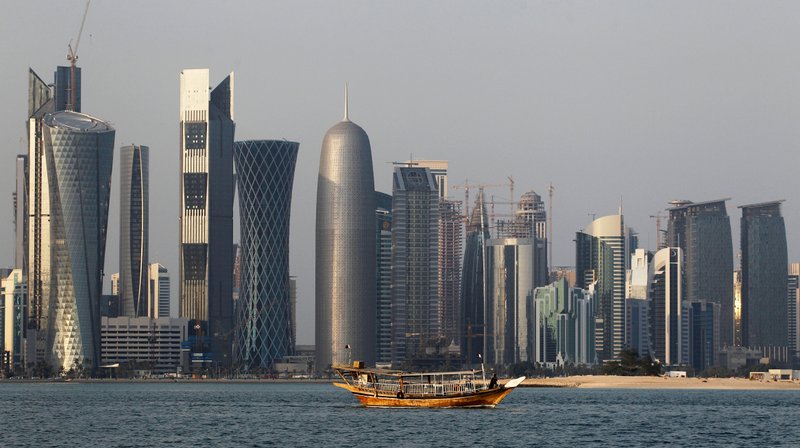 Six months ago Serkan Ucar arrived in Doha to scope out business opportunities – away from his usual patch. The mission looks set to pay off handsomely, as the Turkish entrepreneur expects to win a first contract to help build an iconic 2022 World Cup stadium.
Since several Arab countries launched an economic boycott of Qatar a year ago, the tiny Gulf state has had to find alternative partners for trade and investment. Aided by its massive natural gas wealth, it has rapidly made new friends.
A year ago Saudi Arabia, the United Arab Emirates, Bahrain and Egypt cut transport and trade links with Doha, accusing it of backing terrorism – a charge it strongly denies.
The boycott disrupted Qatar's shipping routes through the Gulf and blocked imports across its only land border with Saudi Arabia, previously the route for its perishable food supplies and construction materials.
In the bitter diplomatic and economic chill, Ankara sided with Qatar. Ucar, 28, saw openings.
"They've been extremely welcoming for Turkish companies after the blockade," Ucar told Reuters at a hotel where he was about to interview engineers for jobs at his new office in Doha.
His family business Referans Holding expects to sign a contract soon to supply scaffolding and aluminum and fit out Lusail Stadium, where the 2022 World Cup final will take place.
Many Turkish contractors are bidding for projects as Qatar pushes ahead with infrastructure for the tournament, said Joseph Abraham, chief executive of Commercial Bank of Qatar.
WORLD CUP BOOM
Huge construction projects are under way for the World Cup. Seven new stadiums are being built, along with other infrastructure, sucking in building materials from far afield.
Gypsum, used to make drywall, is being newly imported from Iran, said a construction manager who declined to be named. Gabbro, used to make asphalt and concrete, was now being imported from Oman instead of the UAE.
While the World Cup means sporting drama and global prestige, the early stages of the boycott were all about urgent shortages of basic products.
When dairy, fresh milk and eggs disappeared from stores, Doha airlifted in more than 3,000 cows on state airline Qatar Airways and imported eggs from Oman, which kept its shipping route with Qatar open when Dubai halted shipments to Doha.
In Qatar's supermarkets, Turkish brands like Ülker and Pinar soft cream cheeses are doing well.
"The Turkish market is very important to us," said Saleh bin Hamad al-Sharqi, director general at the Qatar Chamber of Commerce and Industry. "It's geographically close logistically, high quality and has competitive prices."
Imports from Turkey between June and December 2017 grew to $523 million, 48.2 percent higher than in the same period the previous year. From Oman they jumped 150 percent to $575 million, according to International Monetary Fund data.
Imports from India rose 54.6 percent to $1.06 billion, and from Iran 63 percent to $69 million.
WEATHERING THE STORM
Some of Doha's businesses took a battering when the boycott was launched. Qatar Airways lost money in 2017 after losing access to airspace over boycotting states.
Yet the economy has weathered the protracted dispute and is expected to grow 2.6 percent this year and closer to 3 percent in 2019, according to the finance ministry.
The world's largest liquefied natural gas exporter quickly deployed its massive sovereign wealth fund, estimated to have about $320 billion of assets, to protect its banks and currency after the boycotting states withdrew deposits.
"Our biggest mission as Qataris during the blockade was to maintain the economy," Yousuf Al Jaida, chief executive of the Qatar Financial Centre, told Reuters.
"A lot of focus was not about growth, it was about physically withstanding the blockade and whatever damage that may occur, because essentials, whether it's food or logistics, were not being made available."
Qatari officials say the crisis was a wake-up call for the country of 2.7 million to become more self-reliant and diversify.
"We want the world to see what this relatively small country can do with resilience and commitment," Energy Minister Mohammed al-Sada told Reuters. "The only worry I have is that our team may not win the (2022) World Cup."