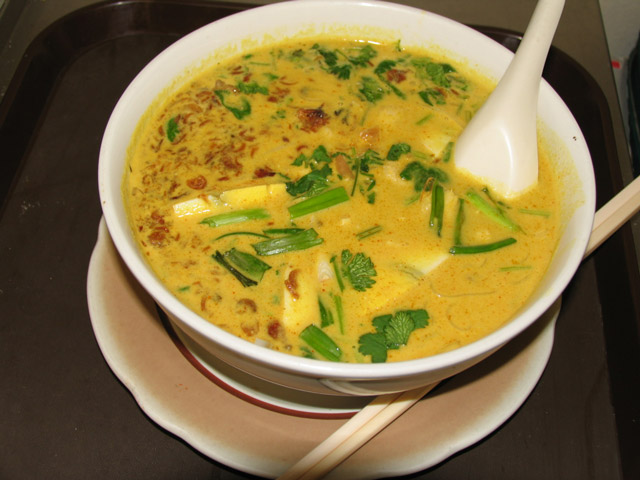 Traveling through Bangkok many years ago, I learned firsthand how little resemblance the food served at elegant Thai restaurants bears to the local food found on Thailand's streets. Setting off from our hotel in the tourist-ridden capital, my wife and I asked a tuk-tuk driver to take us to a restaurant popular with locals.
Becoming suspicious after driving around in circles, we told him to let us off when we saw some plastic tables and chairs huddled around several bubbling aromatic vats. He protested, and in ineffective sign language we insisted, paid the fare, and proceeded to fill our plates with a range of very local-looking flavors, the majority of which seemed to involve fish heads.
Resigned to our presence, the cooks contented themselves by looking out at us with giggling glances, which we took as proof that we had stumbled upon authentic cuisine not usually discovered by foreigners. Our sense of triumph ended soon enough when a bell rang out and an endless stream of school girls poured out of a nearby hall. We had settled ourselves in the middle of a school cafeteria and were busy enjoying the girls' lunch. Our embarrassment was confounded when they refused to let us pay for our stolen meal.
In spite of our embarrassment, we did manage to take from the experience a glimpse of real Thai flavors. Suffice to say they have little in common with the tastes served up at mainstream Thai food places in town like the Bird Cage in Garden City or the Thai Elephant in Zamalek. Don't get me wrong — I think that the Bird Cage is one of Cairo's best meals. But its flavors are somewhat concocted in its rarefied atmosphere, a bit like ordering koshary at Abou El Sid. The menus of these more elegant establishments are only marginally related to the more rugged tastes of Thailand's streets.
For more authentic flavors, you can make the trek down to Abbasseya and wander into the bizarrely named Americani Restaurant Asian Taste. You won't find Pad Thai on this menu. Americani, like the Uighur restaurant profiled recently in this section, caters to the Thai Sunni population studying at Al-Azhar University. Like the Uighur place, don't expect an elegant dining experience. Rather, plastic chairs and plates and stainless steel cutlery are the norm. Ordering is simple; all the dishes are shown in photos in a picture album — you can order simply by pointing. The waitstaff, who by day study the classical Arabic of Al-Azhar, might struggle in Egyptian dialect, but as long as you can place your order in classical dialect, you'll be fine.
Some of the tastes are mediocre; others are spectacular. None are ordinary. In spite of the dishes' ample sizes, few carry a price tag over LE10. We started with a pair of broths, daging ayam soups, which were highly aromatic of pepper, but suspiciously resemblant of maggi cubes. We followed with a range of main dishes, including mie gareng (a bit disappointing — it seemed to comprise of crunchy ramen noodles), ikan samaba kacang (a whole fish, a bit dry, served up in delicious spicy peanut sauce), nasi paprika daging (beef served with vegetables), and naygar mutiara (a superb beef curry served atop yellow rice).
Americani serves up spicy and authentic Thai tastes. It's not quite as spectacular as the Uighur noodle joint nearby, so if you're only making one journey into this part of Cairo, Americani shouldn't distract you from a pilgrimage to the extraordinary noodles served up next door. However, Americani is another glimpse into the delightful culinary muddle available on the backstreets of Cairo. As we sat during a recent meal, among Thai and Senegalese patrons, with not another Egyptian or Westerner in sight, as the mellifluous tunes of British-Azerbaijani singer Sami Youssef played from the scratchy sound system, we realized multiculturalism is alive and well in Cairo.
Details: The restaurant is located on Ahmed Said Street, across from the Taki factory and not far from the water workers' sporting club. Open daily from 1 pm to 10:30 pm. Telephone: 01143878899. A filling meal won't run much more than LE15 per person.