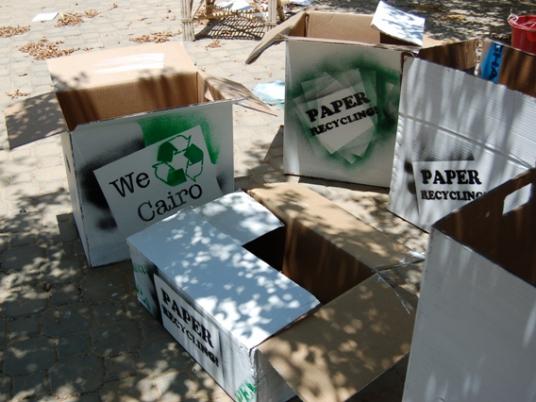 In an effort to take a leading role in making Egypt more environmentally friendly, the American University in Cairo has launched a new master of science in sustainable development. The program, the first of its kind in the region, is scheduled to begin in fall 2013.
"The various development programs currently under way in Egypt are not sustainable," says Hani Sewilam, a construction and architectural engineering professor, and director of the newly established Center for Sustainable Development at AUC.
"We have a lot of serious problems related to health, housing, drinking water and agriculture. Every time we try to improve something, we create a new set of complications, because too often, the designed programs don't pay enough attention to social, environmental and economic aspects of development," he adds.
To make his point clearer, Sewilam uses the informal housing sector as an example. To him, the issue surpasses the mere housing aspect, because, to truly be a success, an efficient housing plan has to provide resources to residents and generate income, while also raising their awareness about environmental issues and instilling a sense of community.
He is adamant that there is growing demand in Egypt for green economic and business ventures. "Renewable energy, efficient water management, desalination, organic agriculture and green buildings all need to address climate change, promote sustainability and improve environmental quality," he says.
He envisions a more sustainable environmental cycle that would use solar energy to generate electricity that could later be utilized for water desalination.
"The water will then be used to irrigate agricultural lands and the subsequent wastewater could be exploited in fish farming industries and so on," he says.
To help achieve this goal, the new interdisciplinary program will bring together different fields of study and have them interact together to integrate all aspects of development, which will guarantee its sustainability in the long term, Sewilam says.
According to the AUC website, students will take their courses in the School of Sciences and Engineering, the Business School, the School of the Humanities and Social Sciences, and the School of Global Affairs and Public Policy. They will study a core module that includes a course from each from the four schools. They will then choose a discipline-based module to concentrate on.
"The program is open to people from different backgrounds and experiences," Sewilam explains. "Students will be asked to work together to carry out community-based projects to help solve some of Egypt's most pressing environmental and social issues. This process is called twinning master's theses. We want to make it clear that sustainability can't be done by just one person."
Khaled Mahmoud Abdel Halim is an assistant professor at the AUC School of Global Affairs and Public Policy. Convinced that such a program could change Egypt's future, he will be teaching two important courses as part of this new master's program: "Policy for sustainable cities" and "Greening the built environment."
"Sustainable development is no longer a luxury, it has become a necessity all over the world. In Egypt, a lot of government institutions, including the Ministry of Environment and the Ministry of Housing, NGOs, civil society associations and international cooperation projects need sustainable development," he says.
Although many centers in public universities are concerned with the environment, Abdel Halim stresses that none of them, to date, have focused strictly on sustainable development.
"The program will create a qualified new generation of professionals who will have the know-how to efficiently solve existing problems. I hope it will attract creative and ingenuous young people who will foster change," says Abdel Halim.
This piece was originally published in Egypt Independent's weekly print edition.