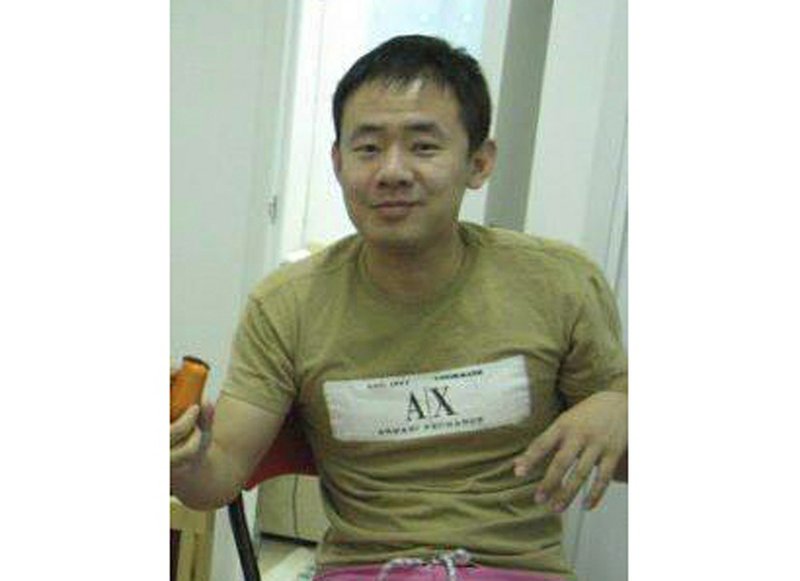 A Chinese-American graduate student at Princeton sentenced to 10 years in prison in Iran for allegedly "infiltrating" the country and sending confidential material abroad is innocent of all charges against him, his professor said Monday.
Xiyue Wang's arrest, which happened nearly a year ago, only came to light Sunday when Iran's judiciary announced his sentence and the detention of President Hassan Rouhani's brother in an unrelated case.
Princeton said that it is "very distressed" by the charges leveled against Wang while he was carrying out scholarly research in the Islamic Republic.
It has been working with Wang's family, the US government, lawyers and others to secure his release, it said, adding that it hopes he will be released on appeal.
"Xiyue Wang is a remarkable, linguistically gifted graduate student," Princeton University professor Stephen Kotkin, who has served as Wang's doctoral adviser, told The Associated Press. "He is innocent of all the charges."
An article posted on Mizan Online, a website affiliated with Iran's judiciary, said 37-year-old Wang was born in Beijing and is a dual national of the United States and China.
He has already filed an appeal to his sentence, according to the website.
Wang was arrested on Aug. 8, 2016 and is accused of passing confidential information about Iran to the US State Department, Princeton's Sharmin and Bijan Mossavar-Rahmani Center for Iran and Persian Gulf Studies, the Harvard Kennedy School and the British Institute of Persian Studies, Mizan Online said.
It alleged he scanned some 4,500 pages of digital documents, paid thousands of dollars to access archives he needed and sought access to confidential areas of Tehran libraries.
He was arrested while conducting research on the Qajar dynasty that once ruled Iran for his doctorate in late 19th and early 20th century Eurasian history, according to Princeton.
He was expecting to continue his research in Russia and needed to get as much work done in Iran as he could before taking up a fellowship there, Kotkin said.
That included scanning large volumes of documents that he could access later, something Kotkin described as "normal, standard scholarly practice." The documents he accessed were roughly 100 years old, the professor said.
"We saw nothing out of the ordinary on anything that he undertook or did," Kotkin said. "He's a graduate student in good standing."
A photo on Princeton's history department website shows Wang posing under a plaque at the entrance of China's official Xinhua News Agency bureau in Kabul, Afghanistan.
A short bio on the Princeton in Asia website said Wang had been a fellow in Hong Kong in 2008-2009, had completed a bachelor's degree in South Asian studies at the University of Washington and did Russian and Eurasian studies at Harvard.
In addition to Mandarin and English, Wang was able to communicate in Persian, Turkish and Pashto, and had worked as a Pashto translator in Afghanistan, Kotkin said. It was his first trip to Iran.
"He is unbelievably committed to the life of the mind," Kotkin said. "You have to hand it to this guy, this kind of ambition."
The US State Department has not provided details on the case but called on Tehran to immediately release "all U.S. citizens unjustly detained in Iran." The US does not maintain formal diplomatic relations with Tehran and warns its citizens traveling there that they risk arrest or being barred from leaving.
"The Iranian regime continues to detain US citizens and other foreigners on fabricated national-security related changes," it said.
Other Americans who remain in Iranian custody include Iranian-American art gallery manager Karan Vafadari, who was detained along with his Iranian wife last year. They have yet to be convicted.
Iranian-American businessman Siamak Namazi and his 81-year-old father, Baquer Namazi, are each serving 10-year sentences for "cooperating with the hostile American government."
Another Iranian-American, Robin Shahini, was released on bail last year after staging a weeks-long hunger strike while serving an 18-year prison sentence for "collaboration with a hostile government." He is believed to still be in Iran.
Former FBI agent Robert Levinson, who vanished in Iran in 2007 while on an unauthorized CIA mission, remains unaccounted for.
Also in an Iranian prison is Nizar Zakka, a US permanent resident from Lebanon who advocates for internet freedom and has done work for the US government. He was sentenced to 10 years behind bars last year after being accused of espionage-related charges.
Zakka has been on a hunger strike for three weeks to protest his confinement and his supporters believe he was taken to the hospital Sunday for treatment, said Jason Poblete, a Washington-based lawyer representing him.
Poblete said authorities have repeatedly tried to get Zakka to sign documents in Persian said to be for his medical care, but he has refused, fearing they could be a false confession.
Wang's sentence was announced the same day authorities said they had detained President Rouhani's brother, Hossein Fereidoun, on allegations of financial misconduct.
Fereidoun is a close confidante of the moderate president, a cleric who changed his surname to Rouhani, meaning "spiritual," after joining the seminary decades ago.
Fereidoun was part of the Iran's negotiating team during the final phases of its 2015 nuclear deal with world powers. He has long been a target of hard-liners, who have accused him of misdeeds, including money laundering and misappropriation of government funds.
He appeared briefly in court on Monday but had to be taken away by ambulance for an undisclosed heath concern. He is known to suffer from lung problems dating from the Iran-Iraq War during the 1980s.
The Tasnim news agency reported later Monday that Fereidoun was released on $15 million bail.