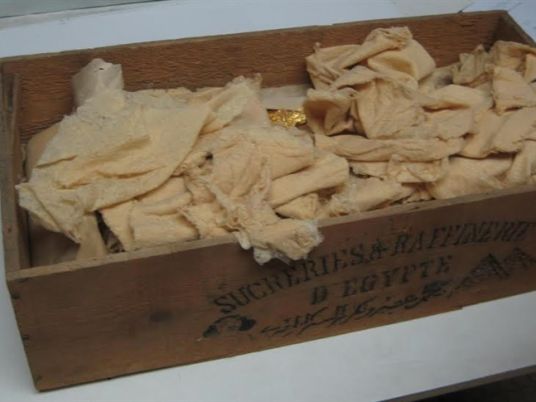 The American Research Center in Egypt will fund a project carried out by the Antiquities Ministry to study gold chips that were found inside a wooden box in a storeroom at the Egyptian Museum.
The center will contribute US$28,500 to funding the project as part of annual grants by the center to support research projects.
Elham Salah, head of the museums sector at the Ministry of Antiquities, said in a press statement on Wednesday that the study will be conducted by a team of Egyptian archaeologists from the Egyptian Museum.
Researchers will study some of the gold chips found in a museum storeroom, said Salah, adding that the chips most likely belong to the coffin discovered earlier in tomb KV55, located in the Valley of the Kings in Luxor.
The study will contribute significantly to determining the identity of the coffin's owner, Salah said.
The coffin, which is currently on display at the Egyptian Museum, is one of the most controversial in ancient Egyptian history, and has so far not been identified. The link between the gold chips and the coffin was identified by studies conducted in 2015, said Salah.
According to researcher and project coordinator Eslam Ezzat, researchers will be examining inscriptions on the coffin and the chips to work out how old they are.
Ezzat said that 500 gold chips, a small part of a human skull, and a handwritten document in French that dates back to discovery of tomb KV55 in the 20th century were found in a wooden box at the Egyptian Museum.
The paper with French writing on it states that the gold chips belong to a royal coffin, without specifying the coffin or the name of the coffin's owner, according to Ezzat.
Edited translation from Al-Masry Al-Youm