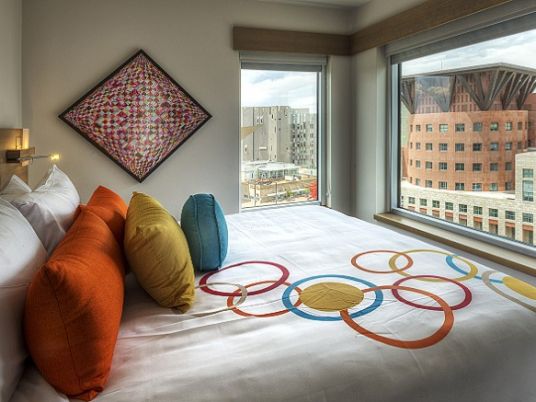 Sometimes, you just want to stare at the walls.
But let's face it, even with a cocktail in hand, the odd abstract paintings and sepia-tone tree photos splashed all over the walls at many hotels aren't much of a visual treat for the weary traveler.
That's where this new crop of artistically inspired hotels comes in, elevating hotel art to gallery or museum status.
The Art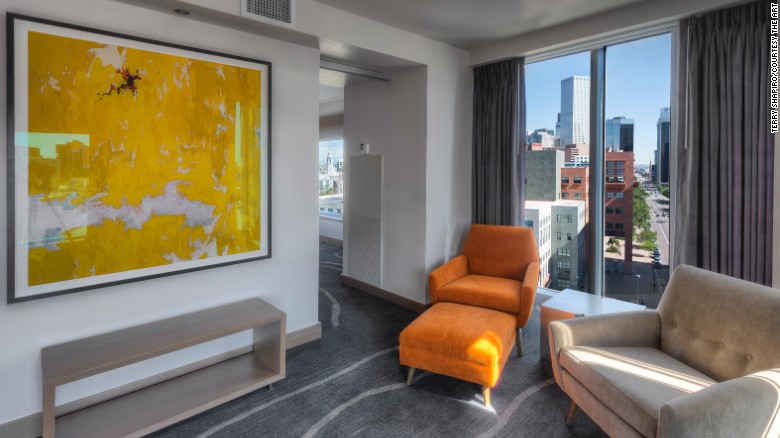 A painting by Clyfford Still hangs at The Art, Denver's newest high-style hotel.
The Art, which opened June 16 in downtown Denver, is a capital-A Art hotel with a museum pedigree.
The hotel's in-house curator, Dianne Vanderlip, is the former curator of modern and contemporary art at the Denver Art Museum, which is just steps away from the new 165-room hotel.
Vanderlip spent two years selecting and commissioning more than 40 works by art-world superstars including Ed Ruscha, Deborah Butterfield, Tracey Emin, Claes Oldenburg and Sol LeWitt.
A light installation featuring 22,000 LED bulbs by Leo Villareal, the artist behind "The Bay Lights" on San Francisco's Bay Bridge, greets guests in the hotel's motor lobby.
The installation is programmed to reflect traffic and vibrations from the street and extends onto Broadway.
The fourth-floor "Welcome Gallery" features a number of standout works, from Ruscha's giant wall tapestry "Industrial, Strength, Sleep" to Butterfield's life-size horse, "Otter," made out of bronze patina-cast wood.
There's an original work of art displayed on each floor of the hotel, and prints by that artist are featured in the floor's guest rooms.
New American cuisine is the focus at the hotel's restaurant, Fire.
21c Museum Hotel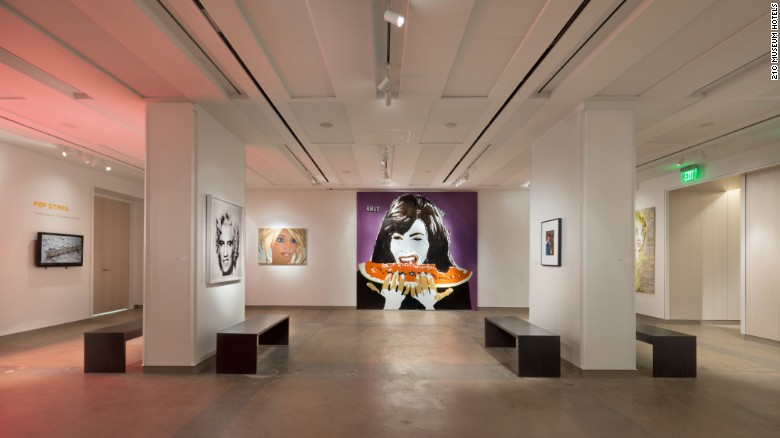 21c Museum Hotel Durham has more than 10,000 feet of exhibition space. Rotating exhibits are open to the public free of charge.
With 21c's Durham, North Carolina, debut in March, the buzzing Bull City added a high-profile art hotel to its rapidly revitalizing downtown.
The fourth hotel opened by 21c Museum Hotels, the Durham location features 10,500 square feet of contemporary art exhibition space that's open to the public free of charge.
Rotating exhibitions are drawn primarily from the 21c collection, which features painting, sculpture, photography, video and more by artists from around the globe.
Seven permanent site-specific installations collectively titled "Reflecting Transformation" are also on view.
Among that group is Duke Riley's "It Will Warm You Twice," a large-scale mosaic made up of cigarettes and mini-cigars — a nod to tobacco's huge role, and declining influence, in Durham's history.
The hotel is an adaptive-reuse project housed in the 1937 Hill Building.
The historic 17-story Art Deco office building, which was once home to a department store and a bank, was originally designed by Shreve, Lamb and Harmon of Empire State Building fame in association with Durham architect George Watts Carr.
The bank vault, terrazzo floors and other original elements are part of the renovated space.
Inside the hotel, Counting House restaurant and lounge showcases North Carolina ingredients, local craft beers and house-made cocktails in addition to rotating contemporary artwork.
Le Méridien Columbus, The Joseph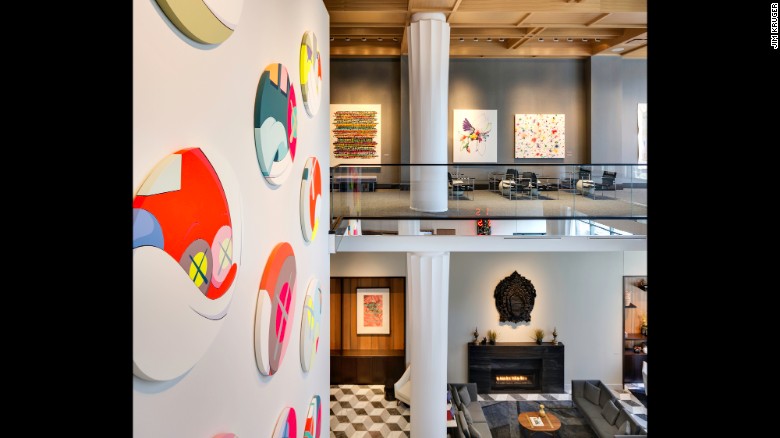 "NYT" (left) is a 12-part acrylic-on-canvas painting by KAWS (Brian Donnelly). It serves as the focal point for the 35-foot atrium lobby of Le Meridien Columbus, The Joseph.
Le Meridien Columbus, The Joseph opened in January in Columbus, Ohio's, Short North arts district, marrying an extensive private art collection and an international hotel brand.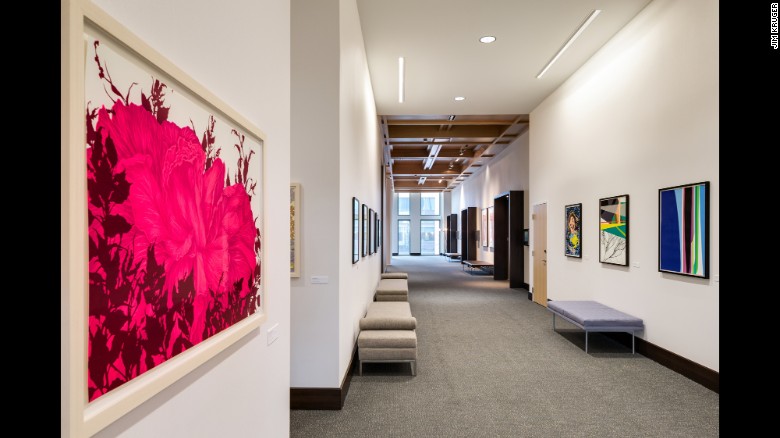 The Ohio Portfolio, 31 limited-edition screen prints by 15 artists with ties to the state, is on view on the second floor of the hotel.
The hotel is part of The Joseph, a large mixed-use complex developed and owned by The Pizzuti Companies.
Works from Ron and Ann Pizzuti's world-class art collection are on display in the light-filled lobby.
"NYT," a 12-part acrylic-on-canvas painting by KAWS (Brian Donnelly), is the vibrant focal point for the 35-foot atrium.
Works displayed on the second floor of the lobby will rotate more frequently, showcasing a range of pieces from the Pizzutis' collection.
Also on view on the second floor is the Ohio Portfolio, 31 limited-edition screen prints by 15 artists with ties to the state.
Each guest room features Ohio Portfolio prints, which are available for purchase.
A complimentary visit to the nearby nonprofit Pizzuti Collection gallery (632 North Park St.) is also part of the hotel's artistic offering.
Baccarat Hotel and Residences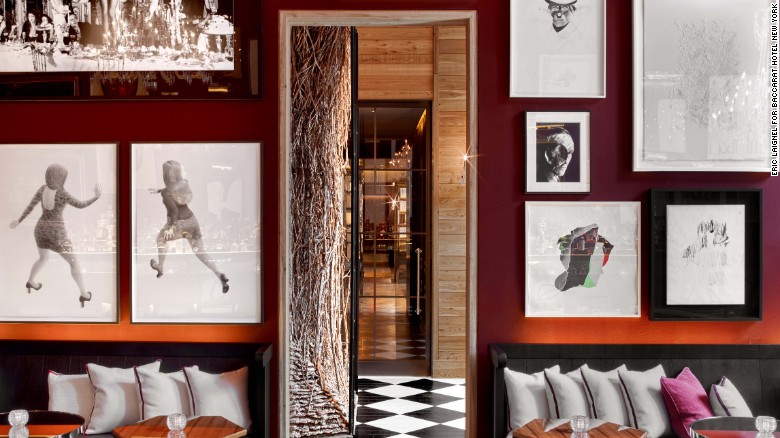 Photographs and work on paper distract visitors from the Baccarat bar's dazzling chandeliers.
While much of the public space in this New York hotel is understandably dripping in crystal, the first Baccarat Hotel's collection of photographs, installations and works on canvas and paper still manages to draw guests' eyes away from the glitter from time to time.
Art asserts itself in the Bar at Baccarat, a rich red barrel-vaulted room festooned with elaborate chandeliers.
The space juxtaposes 18th-century France with contemporary New York with works by artists such as Robert Longo, Ellen von Unwerth, Jean-Philippe Aubanel and Nan Goldin hung salon-style alongside works dating to the 1700s.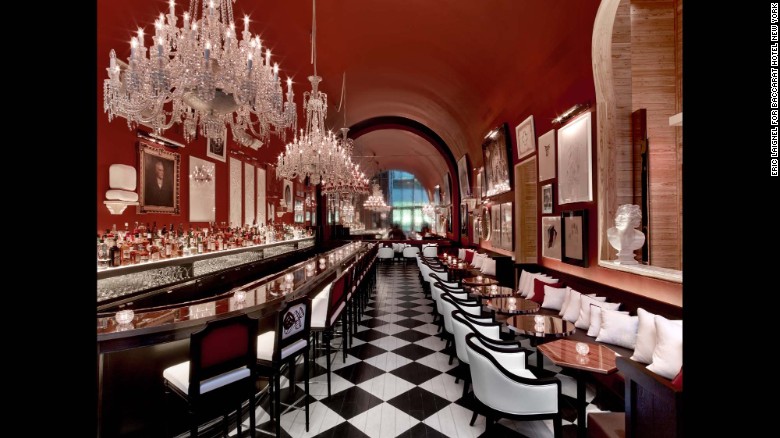 The Bar at Baccarat displays a range of works salon-style on its rich red walls.
The hotel's curatorial team, Frederic and Stephanie Chambre, also asked 12 artists to create new work incorporating Baccarat's Harcourt stemware.
The resulting artwork is displayed in vitrines in the hotel's hallways.
And naturally, there is more crystal to see, including vintage pieces tracing the legendary company's heritage.
Baccarat Hotel and Residences opened in March across from the Museum of Modern Art.
Coming soon: The Renwick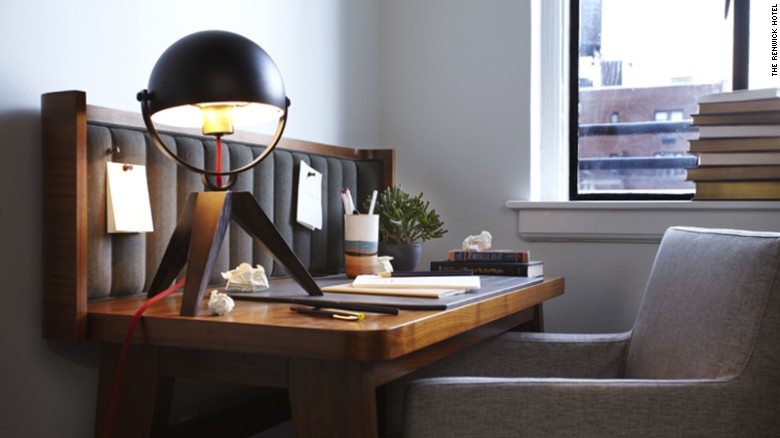 That's a ceramic pencil holder by Robert Blue sitting on a desk resembling an artist's workbench.
The Renwick, expected to open in the fall near New York's Grand Central Terminal, is housed in a building with deep artistic roots.
Built in 1928, the building originally was made up of oversized artists' studios and lofts.
It evolved into an extended-stay hotel for prominent literary figures such as John Steinbeck, F. Scott Fitzgerald and Thomas Mann.
Hotel designers tout art as "a lifestyle," not "an adornment."
The hotel will skip framed artwork in favor of work created directly on wall surfaces and functional pieces sourced by local New York artists.
The fundamental element of drawing — the line — gets a lot of attention, with wire and string art pieces serving as 3-D explorations.
The new hotel's 33 suites will feature themes inspired by writers, artists and architects, incorporating functional art objects like hand-sculpted ceramic pencil holders sitting atop desks reminiscent of an artist's workbench.
The Renwick, 118 E. 40th St., New York. Room rates will start at $479.