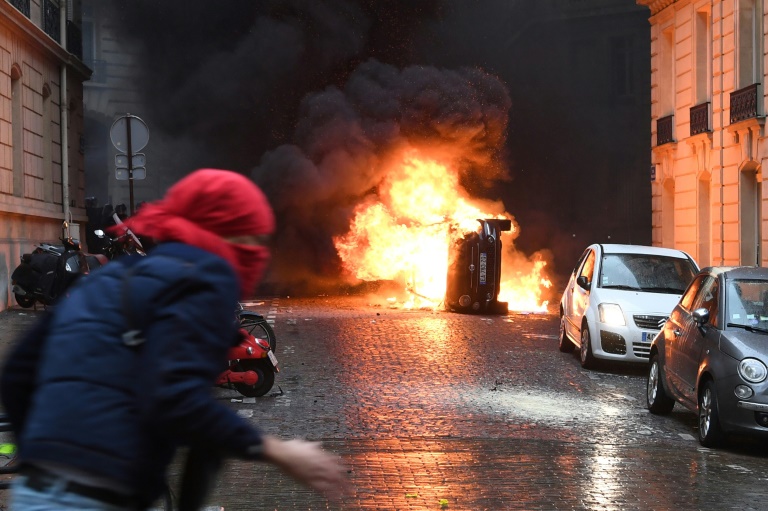 A huge clean-up operation was under way in Paris on Sunday after French "yellow vest" demonstrators clashed with riot police in the latest round of protests against President Emmanuel Macron, but a heavy security deployment averted a repeat of last week's destruction.
Protesters nonetheless set fire to cars, burned barricades and smashed windows in pockets of violence across the city center, clad in their emblematic luminous safety jackets, as armored vehicles rolled through the streets.
The embattled president — whose name rang out across the Champs-Elysees as protesters shouted "Macron, resign" — is expected to address the demonstrations in a much-anticipated speech in the coming days.
Clashes broke out in cities across France, including Marseille, Bordeaux, Lyon and Toulouse, during a fourth weekend of nationwide protests against rising living costs and Macron in general.
But it was Paris which again bore the brunt of the violence and destruction.
"Dozens of shopkeepers have fallen victim to hooligans," Paris Mayor Anne Hidalgo tweeted. "Once again, this is deplorable."
Thick plumes of black smoke from fires rose high into the sky as police fired tear gas, while numerous shops and a Starbucks cafe were ransacked.
"The weather is crap and so is this government," a handful of protesters chanted as light rain began to fall. It turned to downpours by mid-evening, scattering many of the remaining demonstrators.
Social media probe
The outbreaks of violence were on a smaller scale than the destruction and looting of a week earlier, when some 200 cars were torched in the worst rioting in Paris in decades.
The government had vowed "zero tolerance" for anarchist, far-right or other trouble-makers seeking to wreak further havoc at protests that have sparked the deepest crisis of Macron's presidency.
Prime Minister Edouard Philippe congratulated police for the operation, and promised Macron would address the protesters' concerns.
"The dialogue has begun and it must continue," Philippe said. "The president will speak, and will propose measures that will feed this dialogue."
Police reinforcements were boosted to 8,000 across the city, with armored vehicles deployed in Paris for the first time.
Shops along the Champs-Elysees and central department stores stayed shut with their windows boarded up to avoid looting.
The Eiffel Tower, major museums and many metro stations were also closed as parts of Paris went on effective lockdown.
More than 670 protesters were detained in the capital, many of them stopped as they arrived at train stations or meeting points carrying hammers, petanque balls and other potential missiles.
Authorities also launched an investigation into social media activity from accounts allegedly drumming up support for the protests, sources told AFP.
According to the UK's Times newspaper, hundreds of online accounts linked to Russia were used to stoke the demonstrations.
Citing analysis by New Knowledge, a cybersecurity company, the Times said the accounts spread disinformation and used pictures of injured protesters from other events to enhance a narrative of brutality by French authorities.
Protests beyond France
Officials estimated that a total 125,000 "yellow vests" turned out nationwide throughout the day, down from 136,000 last week.
In Paris, health authorities said 179 people had been admitted to hospital, mostly with minor injuries.
Among the police, 17 were hurt, Interior Minister Christophe Castaner said.
The movement has spread beyond France's borders, with around 400 arrested at a "yellow vest" event in Brussels on Saturday and peaceful demonstrations taking place in Dutch towns.
The French protests also attracted the attention of US President Donald Trump.
"Very sad day & night in Paris. Maybe it's time to end the ridiculous and extremely expensive Paris Agreement and return money back to the people in the form of lower taxes?" he tweeted.
The demonstrations are not directly linked to the 2015 Paris climate agreement, which Trump has abandoned to the dismay of Macron and other Western leaders.
People began blockading French roads on November 17 over rising fuel prices — partly due to taxes aimed at helping the country transition to a lower-carbon economy.
But the demonstrations have since swollen into a broad movement against ex-banker Macron, whom the protesters accuse of favoring the rich.
Nationwide, 89,000 police officers were on duty in towns, cities and on numerous motorways which caused havoc on France's road network, including a blockade of a border crossing with Spain.
Nearly 1,400 people were detained across France, according to Castaner.
Macron's U-turn
Macron this week gave in to some of the protesters' demands for measures to help the poor and struggling middle classes, including scrapping a planned increase in fuel taxes.
That climbdown marked a major departure for a president who had vowed, unlike predecessors, not to be swayed by mass protests.
But many of the "yellow vests" are holding out for more.
A popular demand is a reversal of his decision to slash taxes on France's wealthiest in a bid to boost investment and create jobs — something he has so far ruled out.
The policy, along with hikes on pensioners' taxes, cuts in housing allowances and a string of comments deemed insensitive to ordinary workers, has led critics to label Macron a "president of the rich".
Far-right leader Marine Le Pen — who is backed by some protesters from "forgotten" provincial France, but by no means all — called for Macron to "recognize society's suffering and deliver immediate, very strong responses".
Protests at dozens of schools over university reforms, and a call by farmers for demonstrations next week, have added to a sense of general revolt in France.