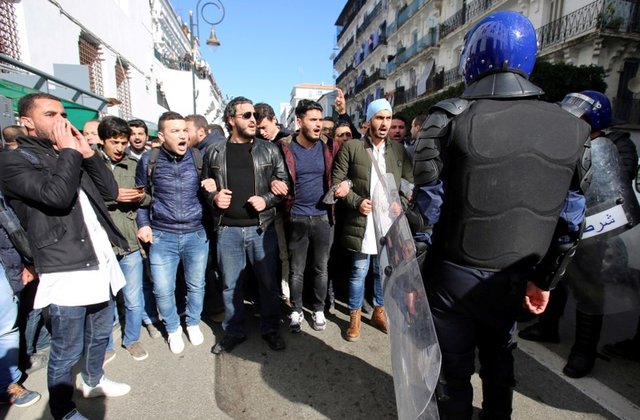 Algerian doctors are expanding a pay strike and teachers are resuming one, representatives said on Tuesday, putting pressure on President Abdelaziz Bouteflika and his prime minister at a time when resources are limited.
Medical students and specialist doctors in several hospitals on Tuesday joined a strike by family doctors that has already been weakening health care in Algiers and other major cities for the last four months. 
Protests over economic grievances are frequent in the OPEC member, but this year's walkout is the largest since riots in 2011 that followed uprisings in Egypt, Tunisia and elsewhere in the region.
The protests come at a time of political uncertainty — Bouteflika, 81, has barely appeared in public since suffering a stroke in 2013.
"Our colleagues the students and our colleagues the specialists have decided to show support by joining the strike," Mohamed Toualeb, a spokesman for the strikers, told Reuters, without giving numbers.
"The government is unable to address our demands," he said. "So we are calling on Bouteflika to find a solution to our problems."
Teachers plan to launch new a strike on April 9, a labor union said, in disappointment that government promises after an earlier protest had not led to any concrete action.
"We will go for a strike of two days per week," the teacher's union said a statement."
Several weeks ago Bouteflika, in office since 1999, defused a three-month teachers' strike that had shut down hundreds of schools by promising to find a solution.
In 2011, the government took the sting out of protests by raising social spending – but this time, money is much shorter as energy revenues, which make up 60 percent of state income, have halved since 2014 due to low prices.
A well-known religious leader asked by the government to mediate has had no success.
Bouteflika could intervene again, but this would make look Prime Minister Ahmed Ouyahia weak, raising the likelihood of a cabinet reshuffle, observers say.
"Ongoing strikes are evidence that the government has not found the formula to defuse social timebombs," said political analyst Farid Ferrari.
A list of potential new ministers has already been circulated on social media and a private TV channel, but officials were not available to comment on it.