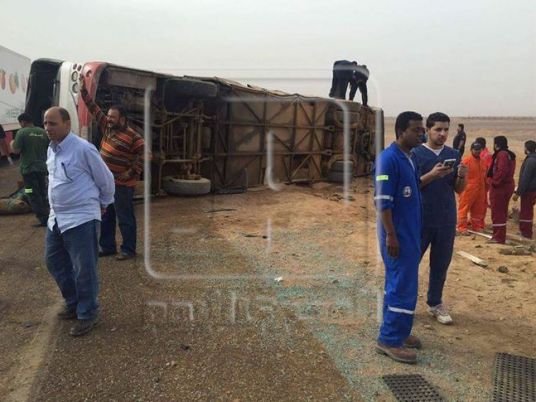 Twenty-three people were injured on Saturday when a bus collided with a trailer-truck at the Alexandria-Cairo Desert Road near in Alexandria's al-Amiriya region.
Undersecretary of Health Ministry in Alexandria Mohamed Abu Soliman said that all the injured were passengers of the bus. Fifteen victims were transferred to al-Amiriya General Hospital, and 8 were taken to a private hospital in al-Shalalat area.
The Public Prosecutor's Office is currently investigating the incident.
Egypt has a road traffic fatality rate of 42 deaths per 100,000 people, according to the World Health Organization. The majority (48 percent) of those killed are passengers of four-wheeled automobiles, although pedestrians also constitute a significant proportion (20 percent) of these fatalities.
According to a report by the Central Agency for Public Mobilization and Statistics on accidents in 2017, car accidents on roads resulted in 3,747 deaths, 13,998 injuries, and 17,201 damaged vehicles during that year.
The report added that the primary cause of accidents was the human factor, which accounted for 78.9 percent of total accidents, followed by defects in the vehicle at 14 percent and environmental causes (such as road conditions) at two percent of total accidents.
Edited translation from Al-Masry Al-Youm