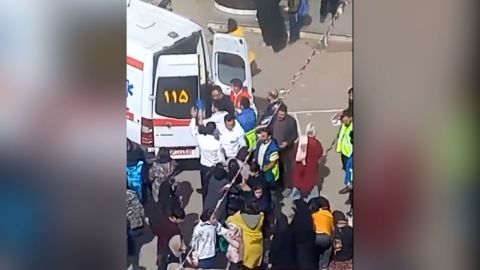 Concern is growing in Iran after reports emerged that hundreds of schoolgirls had been poisoned across the country in recent months.
On Wednesday, Iran's semi-official Mehr News reported that Shahriar Heydari, a member of Parliament, cited an unnamed "reliable source" in saying that "nearly 900 students" from across the country had been poisoned so far.
The first reported poisonings happened in the city of Qom on November 30, when 18 schoolgirls from one high school were hospitalized, according to Iranian state media. In another incident in Qom on February 14, more than 100 students from 13 schools were taken to hospitals after what the state-affiliated Tasnim news agency described as "serial poisonings."
There have also been reports of schoolgirls being poisoned in the capital Tehran – where 35 were hospitalized on Tuesday, according to Fars News. They were in "good" condition, and many of them were later released, Fars reported. State media have also reported student poisonings in recent months in the city of Borujerd and in Chaharmahal and Bakhtiari Province.
Many of the reports involve students at girls' schools, but state media have also reported at least one incident of poisoning at a boys' school, on February 4 in Qom.
CNN has reached out to one of the schools named by state media as having had an incident of poisoning, Noor Yazdanshahr Conservatory in Qom, as well as to individual teachers, but has not heard back.
Iranian Health Minister Bahram Einollahi, who visited affected students in Qom, said on February 15 that the symptoms included muscle weakness, nausea, and tiredness, but that the "poisoning" was mild, according to a report in state media outlet Iranian Students News Agency.
Einollahi said his team had taken many samples from patients admitted to one Qom hospital for further testing at Iran's renowned Pasteur Institute, which reported that no microbes or viruses had been identified in the samples, according to ISNA.
It's unclear if the incidents are linked and if the students were targeted. But Iran's Deputy Health Minister in charge of Research and Technology Younes Panahi said on February 26 that the poisonings were "chemical" in nature, but not compound chemicals used in warfare and the symptoms were not contagious, according to IRNA.