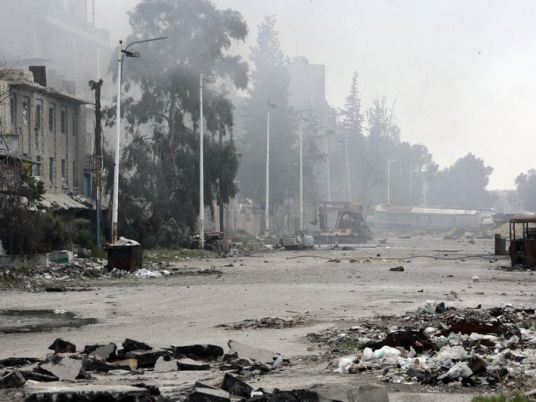 Under pressure from fellow insurgents and escalating airstrikes by the US-led coalition, Syria's al-Qaeda branch is stepping up violence against President Bashar al-Assad's strongholds with precise, high-profile attacks, including a surprising breach of the capital in the most serious infiltration in years.
Sunday's attack, in which insurgents used tunnels they control in northeastern Damascus neighborhoods to hit government positions, appears to have caught the Syrian military off guard. It was a grim reminder that the fighting is far from over, despite significant advances by Assad's forces against rebels across the country in the past year.
The government dispatched some of its elite forces to halt the offensive, which began shortly before sunrise with two suicide bombers from an al-Qaeda-linked group. The bombers, a Saudi and a Syrian, detonated their explosives-laden trucks against army positions on the eastern edge of the capital amid a barrage of artillery shells that landed in the heart of Damascus.
Dozens of insurgents penetrated the city's defenses and captured several blocks northeast of Damascus, triggering fierce clashes that lasted for hours before the fighters were pushed back to where they started.
Insurgent groups repeatedly have tried to break Damascus' defenses in recent years. Syria's al-Qaeda's branch has used suicide bombers targeting government security installations since the early days of the conflict.
Sunday's incursion, however, was the most serious since 2012, when rebels captured several Damascus neighborhoods before being crushed by government forces. It was the latest in a series of stepped-up attacks claimed by the al-Qaeda-linked Levant Liberation Committee.
The gains, though short-lived, came against the backdrop of months of steady rebel losses to government forces across the country. It appeared to be an attempt by al-Qaeda to mount sophisticated attacks against high-value targets to portray itself as the main force capable of fighting the government.
"Every time they can successfully carry out one of these, then it bolsters their case within the armed opposition," said Sam Heller, a Beirut fellow at the US-based Century Foundation.
The Levant Liberation Committee, the latest spinoff from Syria's al-Qaida branch, has claimed several other high-profile attacks in government-controlled areas recently.
They include two attacks earlier in March that killed at least 40 people, mostly Shia pilgrims, in Damascus, and another synchronized attack last month by insurgents storming heavily guarded security offices in the central city of Homs and then blowing themselves up, killing more than 30 officers.
The uptick in attacks comes at a time when the al-Qaeda-linked group is trying to distance itself publicly from the international terrorist network and imposing unity on other insurgent factions. So far, those efforts have largely failed, instead sparking tensions with other rebel factions.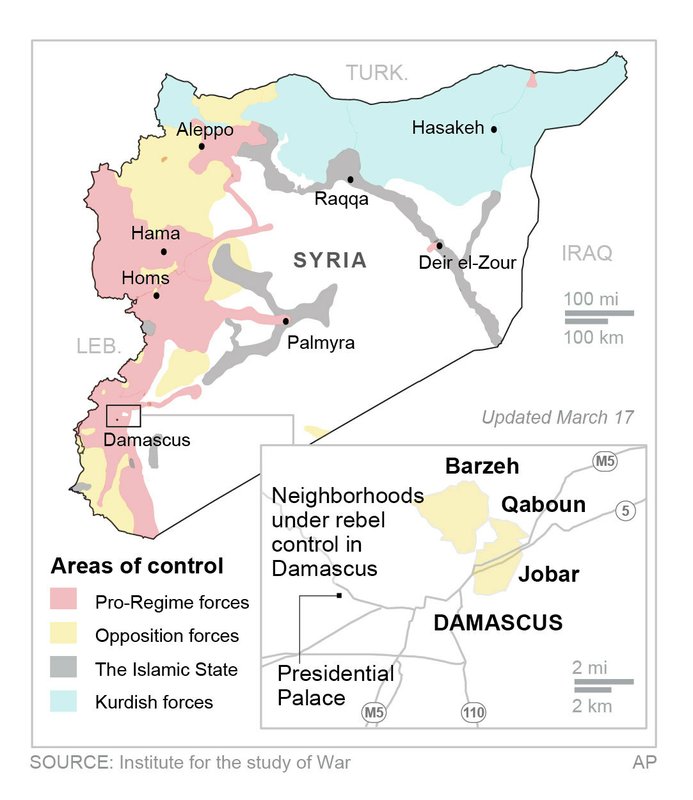 In July, al-Qaeda's branch in Syria — then known as the Nusra Front — said it had cut its links with the international terrorist group and renamed itself the Fatah al-Sham Front. After clashes with moderate rebel factions earlier this year, it began leading a coalition known as the Levant Liberation Committee that consists of five groups and has since been urging other insurgents to join it.
The extremist group opposes peace talks between the opposition and the government taking place in Geneva and the Kazakh capital of Astana, aimed at forging a diplomatic settlement to Syria's civil war. Last week, the conflict entered its seventh year with about 400,000 people dead and half the country's population displaced.
Another round of UN-led talks is to take place in Geneva later this week.
A wave of coalition aerial attacks has killed some senior al-Qaeda commanders in Syria in the past year, adding more pressure on the group.
Analysts say al-Qaeda's best bet to deal with the current challenges is to provoke an escalation in violence to remain relevant and try to attract other factions to its fold, particularly after rebels lost Aleppo, their most important stronghold, in late December.
"We will escalate our operations in the coming days, and our soldiers will reach them in the heart of their fortifications," said Levant Liberation Committee commander Hashem al-Sheik, also known as Abu Jaber, in a YouTube video posted last week to mark the sixth anniversary of the war. He was referring to Assad's troops and government.
The Century Foundation's Heller said the insurgents' primary audience for the attacks in Homs and against the pilgrims in Damascus "seems to have been the Syrian opposition constituency to whom they're trying to establish themselves as the champion and the heart of the opposition against the Assad regime."
Al-Qaeda's branch in Syria is vowing more such attacks, saying that force is the only way to deal with Assad's government.
Fatah al-Sham leader Abu Mohammed al-Golani said in an online video that the Homs attack should be a lesson to opposition politicians taking part in peace talks, adding that they "should leave the field to the fighters and step aside."
Al-Sheik urged all other rebel and militant groups to unite.
"Let's put our hands together and open a new page in our revolution in order to protect our country," he said.