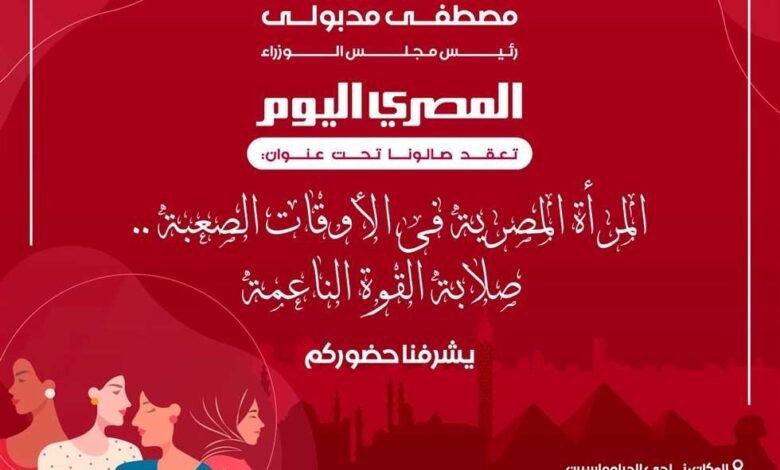 The Al-Masry Al-Youm Salon to celebrate women kicks off on Sunday at Cairo's Diplomatic Club under the title "Egyptian Women in Difficult Times.. The Toughness of Soft Power".
The salon celebrates the distinction, abundant and silent giving of women in the small home – the family, and the big home – Egypt.
The salon is held in the presence of women and public workers representing the government, parliament, the private and civil sectors, and scientific, cultural professional figures, as well as women representing the countryside and neighborhoods of Egypt.
The Chairman of Al-Masry Al-Youm Board of Directors Abdel Moneim Saeed said that it is only natural for an institution concerned with the role of women, enlightenment, progress and equality to organize such a celebration.
This is a step on a long road that the newspaper is going through in triumph for women and strengthening their role, he explained.
Managing Director and Editor-in-Chief Abdel-Latif al-Menawy said that Al-Masry Al-Youm was eager to ensure that the salon takes on a different character, both in form and content.
He said that it addresses the economic, social and cultural challenges facing women and highlights stories of excellence and success from women in all social levels.
Menawy stressed that the Egyptian President Abdel Fattah al-Sisi is betting on women as mothers, wives, sisters, and daughters.
Therefore, public policies must respond to this trend and send a clear message to society that empowering women is not a luxury, he added.
Menawy called for continuous work to improve Egypt's position in indicators related to the status of women, which is vital to the change of society as a whole.
Edited translation from Al-Masry Al-Youm