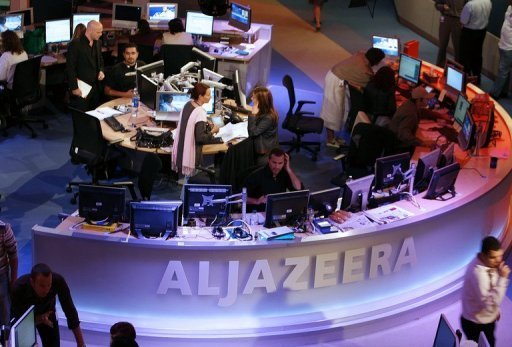 The US news channel of Qatar-based Al-Jazeera will be launched 20 August, the group said Monday as it unveiled its top executive team.
Ehab Al Shihabi, executive director for international operations, has been named interim chief executive officer of Al-Jazeera America, and ABC News veteran Kate O'Brian has been named president, a statement said.
Shihabi is a five-year veteran of Al-Jazeera who has overseen the network's worldwide bureaus and has participated in the creation and launch of Al-Jazeera's Balkans and Turkish channels.
Shihabi previously spent 12 years as a management consultant at Arthur Andersen, Andersen Consulting and Deloitte and holds a master's degree from Georgetown University.
O'Brian has been responsible for ABC's newsgathering operations, including all ABC News bureaus worldwide, since 2007, according to Al-Jazeera.
She has 30 years of experience with the US network and has won an Emmy, a Peabody and an Alfred I. duPont award.
She will be based at Al-Jazeera America's headquarters in New York and "will have full responsibility for defining and implementing the editorial strategy and operations across the network, including news, documentary and all other programming," the statement said.
"Al-Jazeera America will demonstrate that quality journalism is alive and well in the United States," she said.
"I'm looking forward to showing the Al-Jazeera viewers that there is a strong demand for the type of in depth reporting for which Al-Jazeera is so well known."
Al-Jazeera named CNN producer David Doss as senior vice president for news programming and former CBS News veteran Marcy McGinnis as senior vice president for newsgathering.
McGinnis was most recently associate dean of Stony Brook University's School of Journalism.
Shannon High-Bassalik, from CNN, will serve as senior vice president for documentaries and programmes.
Al-Jazeera has announced plans to open offices in a dozen U.S. cities, including Detroit and Chicago, as it seeks to gain a foothold in the U.S. market.
Al-Jazeera in January acquired Current TV, a struggling cable channel that will give the Qatar-based broadcaster the access to millions of U.S. homes it has long sought.