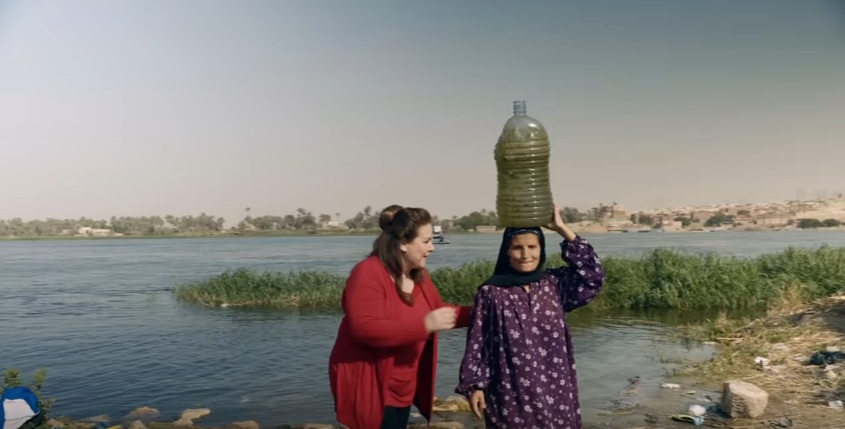 Egypt' Supreme Council for Media Regulation announced that Al-Azhar decided on Thursday to suspend broadcasting its sponsored controversial Ramadan televised PSA [Public Service Announcement] that aims to collect donations to upgrade drinking water in Upper Egypt.
The controversial PSA is tackling the shortage of clean drink water in Upper Egypt and how residents are suffering from this lack.
In one scene, the PSA shows a woman from Upper Egypt, in deplorable condition, being asked by a prominent Egyptian actress on the source of her drinking water; tgewoman then responds by showing her a bucket of dirty water
Through the consecutive scenes of the PSA, the Upper Egyptian woman appears carrying a basket filled with dirty water she then informs the actress [Dalal Abdel Aziz] that this is her famil's drinking water.
The PSA's main message is to urge Egyptians to donate to the institution affiliated to Al-Azhar that is contributing to improving Upper Egypt's infrastructure. However the PSA content was met by an unprecedented attack from social media users who urged that it only defames Egypt, and reaffirms inacurate stereotypes, as it shows them as people who drink dirty water.
According to a statement released from the Supreme Council for Media regulation, Al-Azhar institution decided to suspend the broadcasting of the PSA following the Council's appeal to Al-Azhar's Grand Imam Ahmed Al-Tayyeb.
"The message included is that this PSA is defaming the state's continuous efforts to improve drink water services in Upper Egypt, the PSA did not deliver the right message as it showed Egyptians drinking dirty water and this became as a justification for Sudan government to suspend importing vegetables from Egypt, arguing that it is polluted" the Council's media statement read.
The newly established Supreme Council for Media regulation stated recently that it will interfere to suspend the content of any media that harms Egyptians' morals and traditions.
It moreover noted that through a number of affiliated monitoring committees, the content of TV series and programs broadcasted during Ramadan are under evaluation.
It also added that it has called on a number of privately state-run TV channels to remove some of the offensive series scenes.