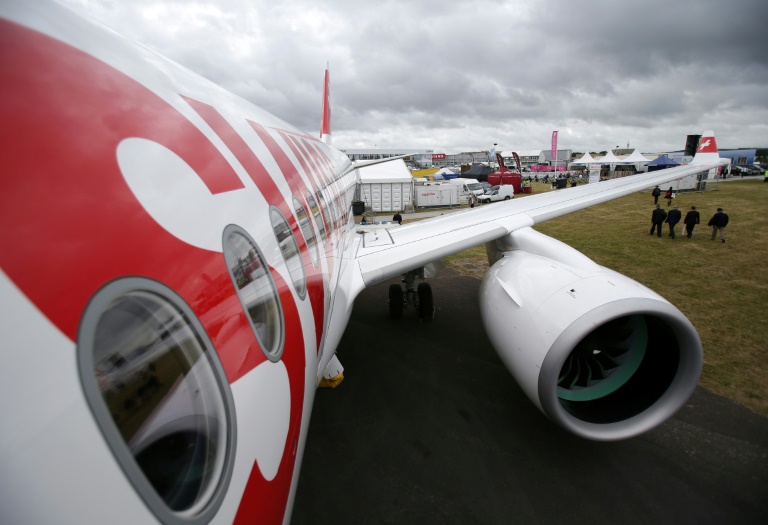 In the face of a bitter trade dispute with Boeing, Airbus announced it would take a majority stake in Bombardier's marquee C-Series airliner programme, as the Canadian firm battles a stiff tariff ruling in the United States.
The landmark agreement comes after the administration of President Donald Trump slapped a 220-percent countervailing duty, as well as an 80-percent anti-dumping tax, on Bombardier CS100 and CS300 aircraft imported into the United States.
Boeing accuses Bombardier of manufacturing its 100-150 seat planes with public subsidies and selling them at a loss to Delta Air Lines.
The agreement between Airbus and Bombardier aims to allow for significant production savings on the C-Series aircraft and to make use of Airbus's international reach for sales, the two groups said in a statement.
"It's a win-win deal for everyone," said the president of Airbus, Tom Enders.
"I have no doubt that our partnership with Bombardier will boost sales and the value of this programme enormously."
A Boeing spokesman told AFP that the deal represented "a questionable agreement between two competitors, both heavily dependent on state subsidies, to circumvent" recent American decisions on tariffs and anti-dumping taxes.
However Airbus shares shot up nearly three percent in morning trading as traders welcomed the deal.
"Even if Airbus has had a difficult past due to" trade disputes underway with Boeing, "the group has taken a major strategic decision to link up with Bombardier", said analysts at Paris-based Aurel BGC brokerage.
Boeing and Airbus have been slugging it out for years at the World Trade Organization, the global court for trade disputes, over billions in government support for development of aircraft.
Airbus will take 50.01 percent of the shares in CSALP, the entity which manages the C-Series programme, with Bombardier and Investissement Quebec holding 31 and 19 percent respectively.
The programme's production headquarters will remain in Quebec.
"We are very happy to welcome Airbus to the C-Series programme," Bombardier's CEO Alain Bellemare said.
"Airbus is the perfect partner for us, Quebec, and Canada," he added.
A deal between the two companies had been mooted previously, but discussions stalled two years ago and the project was abandoned.
AFP/File / Daniel Leal-Olivas/AFPThe larger than average seats are pictured inside the The Bombardier CS100 passenger jet on the opening day of the Farnborough Airshow, south west of London, on July 11, 2016

Bombardier's C-Series is the first new design in the 100- to 150-seat category in of single-aisle aircraft in more than 25 years.
A state-of-the-art aircraft largely built from composite materials, it complements Airbus A320 family of aircraft which can fly 150 to 240 passengers.
The C-Series will thus widen Airbus' offer in fuel-efficient jets, giving airlines an option suited for routes on which they need less capacity.
"The single-aisle market is a key growth driver, representing 70 percent of the expected global future demand for aircraft," according to a statement from Bombardier.
The Trump administration's imposition of anti-dumping duties at Boeing's urging has sparked a trade row, with Canadian Prime Minister Justin Trudeau vowing to to nix plans to buy 18 Super Hornet fighter jets from Boeing, and Britain's Prime Minister Theresa May expressing concern for 4,200 C-Series wing assembly jobs in Northern Ireland.
AFP/File / Paul FAITHThe Bombardier headquarters and factory are pictured in Belfast on September 27, 2017
Workers at Bombardier's factory in Northern Ireland welcomed the agreement with Airbus.
"This deal, which will see Airbus take on responsibility for procurement, sales and marketing and customer support expertise has the potential to open the door to new markets and ensure long-term sustainability of C-Series production…" said Davy Thompson, regional coordinating officer at the Unite trade union.
While US-based Delta Airlines has ordered 75 of the C-Series, Bombardier has had difficulty in securing enough orders to ensure its profitable future.
The C-Series was a step up for the firm, which builds business and regional passenger jets, and doesn't have as developed a global sales and service network as its rivals Airbus and Boeing.
The government of Canada's Quebec province had to come to the rescue of Bombardier in 2015 after delays to the plane and a heave debt load threatened to crash the entire firm.