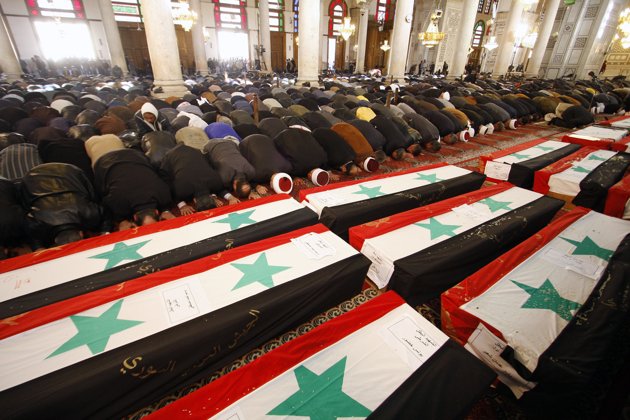 A family of nine was killed in a Syrian government strike on eastern Ghouta, a war monitor said on Monday, as Russia said a truce demanded by the United Nations Security Council would only take effect when all sides agreed how to implement it.
Fighting has continued in Syria since Saturday's Security Council resolution calling for a 30-day ceasefire. Russian Foreign Minister Sergei Lavrov said it would not apply to the army's battle with "terrorists" in eastern Ghouta.
Health authorities in eastern Ghouta said several people had suffered symptoms consistent with chlorine gas exposure, killing one child. Lavrov said allegations the Syrian government was responsible for any chemical attack were aimed at sabotaging the truce.
"Eastern Ghouta cannot wait, it is high time to stop this hell on earth," U.N. Secretary-General Antonio Guterres told the U.N. Human Rights Council in Geneva, calling for implementation of the 30-day ceasefire.
Syrian President Bashar al-Assad, backed by Russia and Iran, has steadily clawed back control of areas where his opponents rose up against his rule in 2011. Eastern Ghouta is the last major insurgent stronghold near Damascus, the seat of his power.
Fighting is raging elsewhere in Syria too, as Turkey presses its offensive against a Kurdish militia in Afrin, rival rebel groups fight each other in Idlib and a U.S.-led coalition targets Islamic State in the east.
The bombardment of eastern Ghouta over the past week has been one of the heaviest of Syria's seven-year war, killing at least 556 people in eight days, according to a toll compiled by the Syrian Observatory for Human Rights, a UK-based war monitor.
It said two bodies had been pulled from the rubble of a home destroyed by an air strike in the Ghouta town of Douma, with seven others from the same family dead underneath.
The U.N. Security Council, including Russia, approved the resolution demanding a 30-day truce on Saturday. The intensity of the bombardment has diminished since then but has still killed more than two dozen people, the Observatory said.
Rebel shelling has caused 36 deaths and a number of injuries in Damascus and nearby rural areas in the last four days, Zaher Hajjo, a government health official, told Reuters.
A Western diplomat in Geneva said it was "not clear if (the truce) will be implemented today or tomorrow, or at all", adding: "The situation is catastrophic if not out of control."
RELATIVE LULL
In eastern Ghouta, people were making use of a relative lull in the bombardment to find provisions, said Moayad Hafi, a rescue worker based there.
"Civilians rushed from their shelters to get food and return quickly since the warplanes are still in the sky and can hit at any moment," he told Reuters in a voice message.
Iran's military chief of staff said on Sunday that pro-Damascus forces would press ahead with the offensive in the Damascus suburbs, saying the ceasefire did not cover parts of the Damascus suburbs "held by the terrorists".
Lavrov said the ceasefire would not cover either the Ahrar al-Sham or the Jaish al-Islam factions, describing them as partners of the former al Qaeda affiliate, the Nusra Front.
The two major rebel factions in eastern Ghouta are Jaish al-Islam and Failaq al-Rahman. Tahrir al-Sham, an alliance of jihadists including Nusra, also has a small presence there.
"Partners of al-Nusra are not protected by the ceasefire regime. They are also subject to the legitimate actions of Syrian armed forces and all those who support the Syrian army," said Lavrov.
In Idlib, Ahrar al-Sham and Tahrir al-Sham have been battling each other in recent days, rather than working in partnership.
Syrian state television reported that army units had advanced against militants near Harasta in eastern Ghouta. State news agency SANA also reported that the army had stopped a car bomb being driven into Damascus.
The Nusra Front has consistently been excluded from ceasefires in Syria, and the opposition says the government has used this as an excuse to keep up its bombardments.