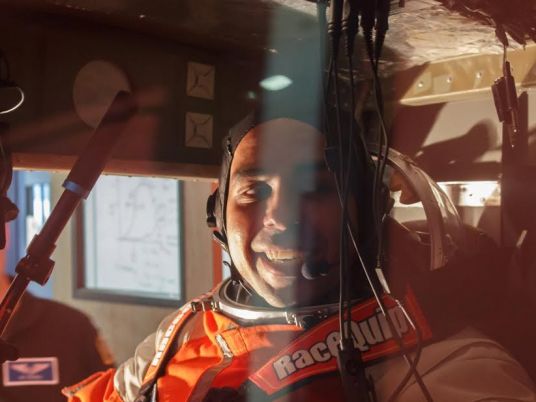 Flying the flag for Egypt in the arena of space operations — a field that Egypt has scarcely participated in previously — Ahmed Farid, along with two other Egyptians, is now enrolled in PoSSUM, (Polar Suborbital Science in the Upper Mesosphere) a research program funded by NASA that aims to study the upper atmosphere of Earth and determine what effects it has on climate change.
In an exclusive interview with Egypt Independent, Farid talks about how he came to be on the project and what is involved.
When he started his career, Farid had no idea he was going to be an astronaut. He initially studied Management Technology at the Modern Academy in Egypt and graduated with honors in 2002. Wasting no time, he went straight on to do a post-graduate diploma in Management Technology at the American University in Cairo, completing it in 2004.
Soon after, Farid received a scholarship to IBM in Egypt and launched a career in the IT field. His path took him on to Microsoft in Germany, and while living there he was scouted online by the Telespazio for the German Space Operations Center and was invited to go and work for the European operations on the International Space Station. Very surprised by the email, Farid initially thought it was spam. Nevertheless, he underwent the application process and soon found himself at PoSSUM.
Farid says, "Working in Space Operations can be just as routine as other work, but for the past seven years, every time I show my ID to the guards on the gate, I feel excited."
Producing astronaut-scientists
The program includes two main components of study: the theoretical framework of flying the craft, and practical tests conducted with equipment and kit such as technically advanced spacesuits.
PoSSUM is different from other space programs in that it is not only concerned with space travel, but aims to create astronaut-scientists who conduct research to study the environment and improve it.
Talking to Egypt Independent, Farid outlined details of the practical tests conducted in the PoSSUM program, which he finds exhilarating. The tests include flying aircraft at different levels of gravity.
He says, "At G4 level gravity, the pull of gravity on you is four times what it normally is. When I move my arm, I can feel the muscles move. I end up exerting much more force than I normally would."
The tests include flying a plane in G4 level gravity, and Farid explains that often the plane is upside down during practical exercises. Not many people can claim that they experience such excitement at work.
"We practice how to move inside the spacesuit, which can be very difficult. It's a strange feeling, once the suit locks; you can't hear anything at all. You can only see things around you through the helmet. The suit itself is very heavy and requires up to four engineers to operate it. The most difficult part is moving your fingers inside the large gloves, which are also very heavy. It takes practice to get it right," continues Farid.
A photo by Trea Cotton.
A vision for Egypt
There are two other Egyptian participants in the program: Omar Samra and Abdelraouf El Waqad. Farid says, "I didn't know them before the program and I was apprehensive about meeting them because all three of us would be representing Egypt together. They turned out to be very cool guys and now we are very close friends, even though we live in different cities. We are now planning future projects together."
"When I got to know them better, I was so honored to be representing Egypt in the program with them. There is a lot of negative energy amongst young people in Egypt and I think there is something powerful about the three of us being in the program together. I hope when Egyptians see us they are proud, and I want to bring some positive energy into Egyptians' lives and motivate them to be better."
With regards to the relatively low number of Egyptians who have pursued careers as astronauts Farid says, "When I was in college, a professor asked us why we thought few Egyptians get into Harvard. I didn't know. He told us it was because people are afraid to apply. I think people need to understand that their dreams are valid wherever they are in the world, and that they should not be afraid and work hard to achieve them. It's a shame Egypt does not have a space program to conduct experiments and gather research."
Farid explains that an important element of the PoSSUM program is that is oriented towards civil responsibility; a program given over to the study of the atmosphere to analyze the increasing risks of global warming. So if you want to be an astronaut and also save the world, he says, PoSSUM is the program for you.
Farid is currently working on an independent project which he has chosen to keep under wraps. All he will reveal to Egypt Independent is that it is called "SWEET," and that it aims to tackle water problems in less developed countries, confirming that the project is close to completion.
A photo by Trea Cotton.