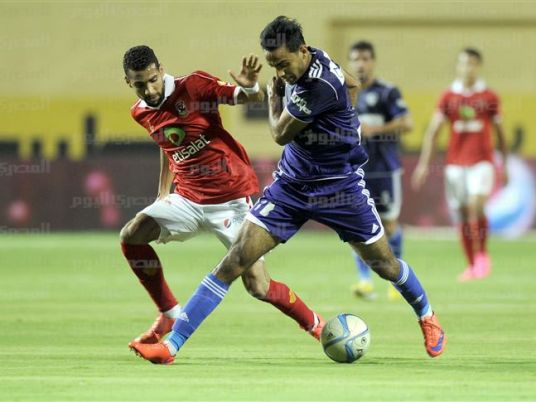 Bitter rivals Al-Ahly Club and Zamalek Sports Club will mark their 111th premier league derby when both face off at 7:00 CLT at Borg al-Arab Stadium in Alexandria.
Al-Ahly lead the chart with 35 points and are eyeing the match's three points to maintain an edge ahead of Zamalek, who comes second with 31 points. Each have one game in hand.
Based on statistics, both squads seem to have enjoyed the staunchest defense lines, with each receiving only ten goals in 15 matches played since the start of the competitions. Al-Ahly, however, have the strongest strikers line with 26 goals, edging Zamalek with only two goals.
Al-Ahly's coach Abdel Aziz (Zizo) Abdel Shafi is seeking to score his second win against Zamalek, having made a first victory during the Super Cup hosted by the United Arab Emirates last year. He is also, most importantly, seeking to ensure a secure lead on top of the league.
In the other camp, Zamalek's Ahmed (Mido) Hossam, is undoubtedly aware that winning the game is critical for maintaining his weeks-old coaching stint, as well as to get an impetus towards competition on the title before the end of the league's first round.
The game was already preceded with heightened tensions as Zamalek's Chief Mortada Mansour refused to play the game on the Alexandria pitch, arguing that Al-Ahly had already chosen three other stadiums in Cairo for his league games. Mansour backtracked on his position after a recent meeting with the Youth and Sports Ministry.
Edited translation from Al-Masry Al-Youm