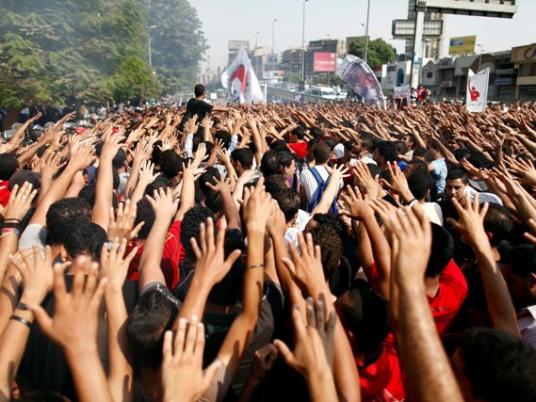 Egyptian football league clubs committee decided, in collaboration with Egyptian Football Association (EFA) on Monday not to include Ahly and Port Said's Al-Masry clubs in one group during the football seasons 2013-2014.
Kamal Darwish, head of the committee, said in a press conference Masry Club will be placed in a group with Zamalek Club.
Violence took place in February 2012 during a match between Ahly and Masry clubs in Port Said, killing 72 Ahly fans. EFA decided then preventing Masry Club from playing in the league for one season. Masry will participate in the 2012-2013 season which was not completed due to 30 June incidents.
On 9 March, Criminal Court sentenced 21 suspects involved in the incidents to death and imprisoned 25 others.
According to Darwish, Zamalek will join each of Ismaili and Masry clubs at the second group, while the first group will include each of Ahly and Enppi clubs. Draw will take place on Monday to set groups for other clubs.
Clubs will be divided into two groups with each including 11 clubs.
After the two groups finish the two-legged ties, first and second club of every group will play two-legged ties. The club with highest number of points will win the championship.
Relegation system will be applied on five clubs, which will be dropped to the second-class Egyptian league through two clubs ranking 10th and 11th place of every group. A match will be then played between clubs ranking the ninth place of every group. The losing club will be dropped to the second class league.
Darwish said the championship launch hasn't been set yet. It will not take place on the scheduled date, 7 December, due to not being provided with security approvals on securing the matches. It will probably be played after Ahly Club returns from the World Club Cup championship, which will be played in Morocco from 11-21 December.
On 14 July, EFA decided to cancel the 2012-2013 season which started in absence of fans, as Interior Ministry announced by then difficulty to secure the clubs due to instability.
Edited translation from Al-Masry Al-Youm