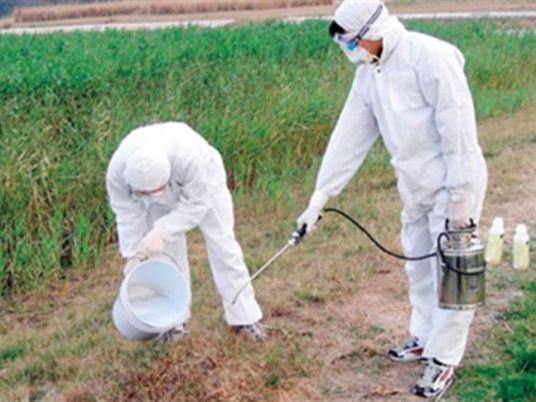 An official report issued Wednesday by the Agriculture Ministry revealed different ways to smuggle pesticides into Egypt.
The report said methods used by smugglers include cross-border smuggling through desert trails away from the customs authorities, managing to smuggle the shipments through ports using forged documents and hiding pesticides in other cargo containers.
The report mentioned that the pesticide smugglers take advantage of the facilities granted to importers at free zones.
The report pointed out that the European Union does not allow the use of 30 percent of the solvents commonly used in pesticide processing because of its adverse effects on the environment.
Security authorities seized 1,500 liters of the outlawed Israeli pesticide Redoumal in the Sharqiya governorate on Monday before it could be sold in other governorates.
Head of the Pesticide Division at the Agriculture and Land Reclamation Ministry Mohamed Abdel Megid said the pesticide violates Egyptian and international health standards as it harms both the public and the environment.
According to Abdel Megid, Egypt uses 8,500 tons of pesticide annually.

Edited translation from Al-Masry Al-Youm