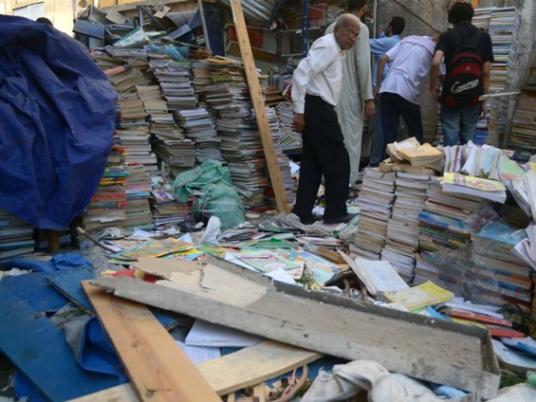 ALEXANDRIA — Despite being surrounded by the ruins of neighboring businesses — book-selling kiosks identical to his own — Ibrahim Soueilam is in a good mood. Not because of the misfortune befalling his competition, but because things, he believes, are going to change.
"And it'll be change for the better," he insists, implying that the recent wave of changes seen by the country have left him less than thrilled.
Somewhat surprisingly, Soueilam's faith in a brighter future rests entirely on a promise made by the government.
After last Friday's early morning police raid on the kiosks of Al-Nabi Daniel Street, in which 16 of 48 kiosks were decimated and their contents confiscated — a surprise move that sent shockwaves through the local and, to a lesser extent, national culture scene — the government turned around and issued a formal apology, describing the whole incident as an unfortunate misunderstanding.
On Saturday evening, the local police chief, along with a handful of similarly high-ranking officials, visited the area which has long been established as a significant cultural market. He offered apologies to the vendors as well as promises that, if fulfilled, would vastly improve their working conditions while also granting them much-needed benefits and rights.
While nothing has yet come of the meeting, Soueilam, like most of the other vendors occupying the long, narrow side street, is sure that the worst is over.
"[The government] admitted the raid was a mistake. The police actually apologized to us, so that was nice. But it made sense. We've been here for a lifetime," he says, adding that he has outlived the train cars that used to clatter down the street "some ages ago."
"Why would they want to move us? People know we are here, and they specifically come for what we have," he adds.
What they have is books — textbooks, coloring books, novels and, most importantly, rare publications, literary antiques and obscurities that are what Al-Nabi Daniel book market is most recognized for, and the main reason the location is repeatedly referred to by the neighborhood residents with whom Egypt Independent speaks as "our cultural arena."
As to how the government could have mistakenly mowed down 16 of these libraries, Raafat Ahmed Khamsawy, official spokesperson for Al-Nabi Daniel Book and Heritage Preservation Association, says the unofficial yet tolerated status that this government should be familiar with was applied to Al-Nabi Daniel vendors, who in turn legitimized themselves by paying for the electricity they were using.
Khamsawy argues that a few of the 48 vendors were, in fact, officially registered, but that "those papers were burned when local institutions went up in flames" during the revolution.
"The government is working to move vendors off the country's streets," Khamsawy attests, before reiterating that Al-Nabi Daniel market was and remains exempt from such campaigns by virtue of the value it holds within the community.
"This place is similar to the Azbakiya or Sayeda Zeinab markets in Cairo," Khamsawy suggests. "Places like these are treasure troves. You cannot get rid of them."
Soueilam, perched behind Khamsawy and bookending all the spokesperson's comments with praise — occasionally in song — breaks this routine to state, "I've been going to the Cairo Book Fair for 22 years. I have a place there; we all do."
Whether he or the other vendors have a place on their own street, though, remains debatable.
The authorities might have destroyed the kiosks by mistake, as they claim, but that does little to change the fact that Al-Nabi Daniel is a narrow street with limited sidewalk space as well. As a result, kiosks frequently spill out on the street, and when motorists do abide by the vendors' requests by parking far enough from the sidewalk in order to accommodate potential book buyers, the usual result is a loud, angry two-way traffic jam on a one-way road.
But if Khamsawy and the government's promises are to be believed, that will all change, somehow. Currently proposed plans by the authorities will see renovations resulting in kiosks with improved, and more importantly, uniform changes — standard kiosk sizes, a color scheme for the market, and a fenced-off lane for shoppers.
"And a big, colorful banner," Soueilam sings.
"These people are good people. They do not want trouble," Khamsawy says. "Those kiosks that were razed cost at least LE5,500 each — some cost as much as LE12,000 when you include all the books that were confiscated or destroyed — but when the government offered to compensate them for their losses, they refused and said they would pay for the replacements themselves. So it is not like they are troublemakers out to get what they can from the government."
"We are not against imposing order," he concludes. "Our objection was to the raid in the middle of the night, when the kiosk owners were not even here to defend their businesses. But now it is all settled and, God willing, this area will get the attention it deserves, and these people [will be] properly registered."
Soueilam nods in agreement, before leaning in and pretending to share a secret.
"These books register themselves," he says.