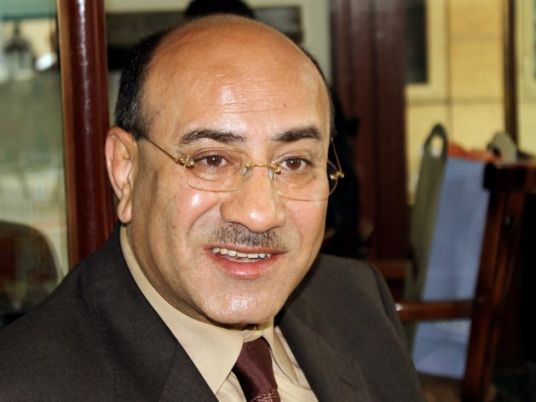 Hisham Geneina's removal by presidential decree from his position as president of the ِCentral Auditing Organization (CAO) in March brought with it a tidal wave of controversy.
Geneina was dismissed after releasing a report that revealed the catastrophic level of corruption in the country. Heading a CAO committee, Geneina gathered data on Egypt's corruption over a four-year period from 2012 to the end of 2015, and sent the report to President Abdel Fattah El Sisi and Prime Minister Sherif Ismail in December 2015.
In the same month, he said in newspaper interviews that government corruption had cost the country LE600 billion (US$68 billion) over a four-year period. The comments caused a backlash from senior officials, uproar in the media, and Geneina's removal from office and trial on charges of circulating false information.
After months of silence, he agreed to be interviewed by Al-Masry Al-Youm to give the details surrounding his now infamous case, telling his interviewer before beginning, "We could both end up in jail for this."
The interview — which lasted almost four hours — will be released in four parts by Al-Masry Al-Youm. In this first installment, Geneina explains some of the gray areas of his case and provides his version of what happened. He covers the period leading up to his removal and the events since, during which he admits he has sought to isolate himself from society.
Corruption on a massive scale
When the CAO report was published, the figure of LE600 billion in government corruption over four years became a major talking point in Egypt, putting the former auditor in the spotlight and under pressure to explain. While the figure ultimately led to his removal from office, he refuses to concede that it was an exaggeration, suggesting the contrary, in fact.
He reveals that this number was taken out of context. The LE600 billion figure was calculated from just one of fourteen clauses in the final report. The total amount of government corruption is much larger than that, Geneina claims, though he does not give any more specifics.
To get some idea of the scale of corruption being alleged, LE600 billion is equal to Egypt's GDP in 2015. However, Geneina says the true total could be much larger.
According to Geneina, the report was commissioned by Egypt's former Planning Minister. The ministry had initially asked for Geneina's expert opinion on a previously compiled corruption report, but the auditor had refused on the basis that the report did not provide sufficient documents to back up its figures. The ministry consequently asked Geneina to conduct a fresh investigation into corruption with the aid of an CAO committee. The result was the report for which he was convicted and removed from office.
Geneina has been widely accused of lying and exaggerating to defame President Abdel Fattah El Sisi, an allegation he firmly rejects.
"Finding the roots of corruption and working to weed it out, or at least to impede it, is surely something that counts for the president, not against him. If under his presidency corruption is being counteracted, he is a good president," he said.
Ousting and intimidation
Geneina has made various claims about the reasons for his removal from office, including the possibility that some of those pushing for his downfall are themselves involved in corrupt practices and fear retribution. In addition, he says he has been subjected to a campaign of intimidation aimed at neutralizing him politically.
On January 17, 2016, parliament approved a decree giving the presidency authority to remove quasi-independent corruption watchdogs and their officials. Observers, however, said at the time that the decree was aimed at facilitating the removal of Geneina.
Sisi subsequently appointed a presidential commission that quickly concluded that a report by Geneina had misled the public by overestimating the scale of corruption. Once the commission's findings were announed, Geneina was abruptly removed from office.
He was tried in June for allegedly circulating false information that harmed state institutions and put public peace at risk, with bail set at LE10,000. While the trial was pending, the former auditor was arrested and reportedly spent a night in police custody.
"I spent a night on a hard floor in police custody. They meant to intimidate me into silence," Geneina explains.
The intimidation took other forms, he says, and it started soon after the report's findings were published.
The report revealed that some very prominent ministers and officials — both current and former — were knee-deep in corruption, Geneina notes with disappointment. Upon its release, he started receiving threats aiming to nip the investigations in the bud.
"One such official contacted me through an intermediary agent who relayed the message: 'Stay away from said official or else'." recalls Geneina.
"I asked this intermediary to pass on my thanks to the official and to inform him that if he was serious in his threats, I would pretend not to have spoken to him or received any messages at all."
A similar incident befell Geneina while he was compiling his first ever report for the CAO under the rule of interim president Adly Mansour. Geneina had arranged for a press conference to release his findings, but upon announcing the date, he received countless threats and personal attacks from various officials.
He brought the matter before Adly Mansour, who told him, "These findings are interesting. I will not directly interfere, but continue your work. Your findings will have a large impact because you are honest and credible in the public eye."
Yet even Geneina was surprised by the extent of the opposition to his work, and he found himself having to strike a balance between not singling out the many individuals implicated in corruption and bringing to light an issue hindering progress inside national institutions.
The report was abandoned by many institutions, he says, who distanced themselves to avoid exposure of the corruption that has in the past — and continues to — rot them to the core.
Last year, Geneina arranged a press conference to bring his findings before the public — a constitutional right for Egyptians. When the conference — an attempted move towards transparency — was announced, Geneina says the wheels were set in motion to have him removed from his position. This was the only way to keep the corruption under wraps, he says.
"Those mentioned in the report — those people who should be brought to justice for all the public and national funds they have stolen — are in very prominent positions, responsible for sensitive issues."
Corrupt land deals
For Geneina, one of the most shocking sections of the report was on the sale of public land to private owners.
He recounted cases where the system of land purchase has been manipulated by high-profile businessmen and officials, who altered the registered purpose for which land was purchased, changing it from agricultural to urban use, thus increasing its value. Having bought a plot for just hundreds of pounds per meter, it was sold on to urban developers (for the building of compounds or resorts) for a huge profit.
Certain important people are afforded the right to select pieces of land in the city for extremely low prices, Geneina explains, a practice that should not happen. Everyone in the nation has an equal right to this land, and they should be shown the absurd profits that certain high-profile people make.
When probed, Geneina declines to name any officials.
"We don't want to both end up in jail, do we?" he says wryly to the interviewer.
Geneina has requested meetings with Sisi on more than one occasion, but has been met by silence. He believes that in order to truly counteract corruption at all levels of the country, the president needs to be given a full-scale picture of what is happening.
"There is a lot of false information being circulated about me and my report, and I think that a meeting with the president could help rectify this," he says.
After the report was released, another regulatory committee was formed to investigate the claims made by Geneina. Their findings were different from his report, and ultimately helped in making him look like a liar in the public eye, Geneina says. Never, throughout this new committee's investigations, did they provide sufficient proof for their findings.
He believes the findings were tampered with to defame him and discredit his report.
"Corruption is like a cancer, deep in our nation's body, and while it is extremely difficult to completely eradicate it, what the nation can do is contain its spread. I think controlling corruption is what sets nations apart in terms of their success, and ultimately the wellbeing of their populations."
In the second part of the Al-Masry Al-Youm interview, due to be released in the near future, Geneina reveals his association with the Muslim Brotherhood and his differences with Gen. Mohamed Ibrahim, former interior minister.