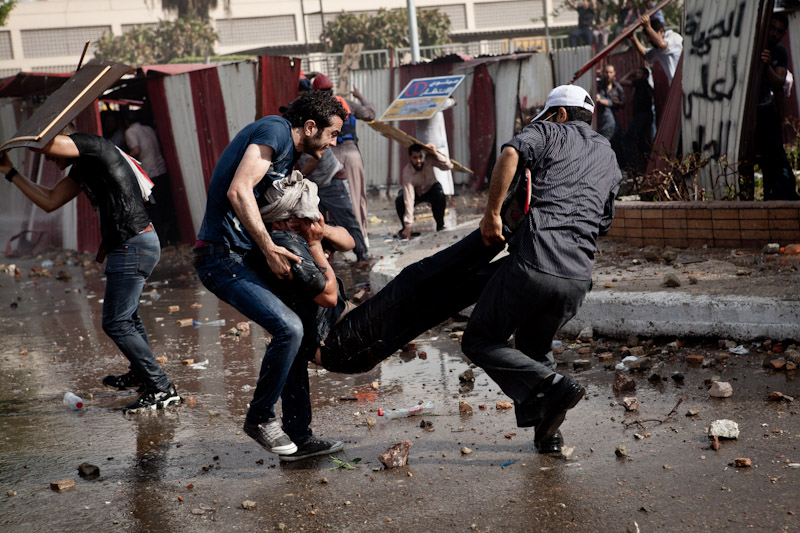 After two weeks of hunger strikes, 10 detainees from the last month's Abbasseya clashes have begun refusing water. This comes after the Supreme Council of Armed Forces ignored demands for their release based on their deteriorated health.
28-year-old civil engineer Haitham Mohamed is one of the detainees who is refusing water. He began hunger striking two weeks ago in protest against his detainment without charges or evidence, and the fact that he is now facing military trial, his brother Walid Mohamed told Al-Masry Al-Youm.
Walid said that his brother's health had deteriorated after he started the hunger strike, and he has lost significant weight. During his last visit to Haitham, Walid noticed that his health has worsened after starting the water strike. Haitham has rejected his family's pleas to end the strike out of fear for his life, Walid said, calling for a quick intervention to save his brother's life.
The family of Mahmoud Amin, another detainee from the Abbasseya clashes, has also demanded his release due to his poor health. Amin is being treated for an eye injury that led to inflammation of the ophthalmic nerve. His case requires medication that the prison administration does not allow.
Mahmoud Amin's friend, Mohamed Talaat, said, "Mahmoud lost his right eye on 25 January, and it was one of the first causalities of the revolution. There are 17 rubber bullets still inside his body, and his ophthalmic nerve has been affected as a result of the injury. He is still receiving treatment at his own expense."
Talaat asserted that Amin was not arrested at the sit-in in Abbasseya, but was on his way to a hospital in the area when thugs deliberately hit him on his healthy eye with an iron stick, stabbed him with a knife in his left side, and cut his head. They then tried to drag him to a side street to continue hitting him, Talaat said.
"Mahmoud asked the army officers to rescue him from thugs, but they arrested him and took him in a military police vehicle. His detention period was just renewed for another 15 days, and he is now locked up at Tora Prison," said Talaat, adding that injured detainees were left without treatment for days.
Talaat demanded fast release for Amin and all his fellow detainees on the same case. He pointed out that Amnesty International called on the SCAF to release Mahmoud Amin.
Edited translation from Al-Masry Al-Youm