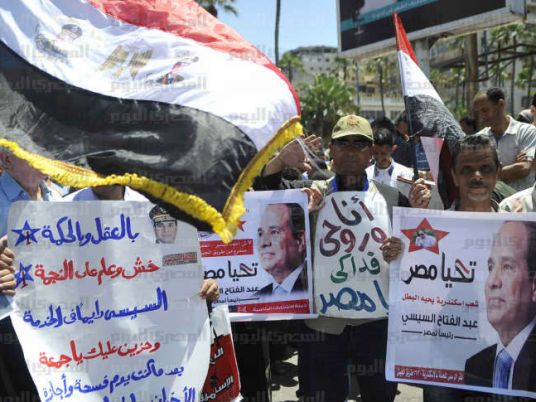 As Egyptian President Abdel Fattah al-Sisi reaches the two-year milestone of his presidency in the coming week, the Egyptian Center for Public Opinion Research (Baseera) has conducted a poll to measure the Egyptian people's satisfaction with his performance.
In only one month, approval has risen to 91 percent, compared to 79 percent last month, and 90 percent in June 2015, according to the poll.
The poll showed that only seven percent are now not satisfied with Sisi's performance, as opposed to 13 percent last month. Two percent of poll respondents were undecided, compared to 8 percent last month.
Baseera attributed the increase in satisfaction to the EgyptAir plane crash of late May, explaining that according to world analysts, rates of satisfaction with the president's performance increase in times of crisis.
From another angle, 81 percent of Egyptians said they would revote for al-Sisi if presidential elections were to be held tomorrow, with the remaining 19 percent divided equally between those who would not re-elect him and those whose decision would depend on the candidates running against him.
Poll participants' educational level had a considerable impact on the poll results, with 86 percent of poll participants with a lower level of education willing to revote for al-Sisi, compared to 69 percent of respondents who have been through higher education.
The number of respondents whose vote would depend on the opponent candidate was directly proportional to education level. Six percent of respondents with a lower level of education said their decision would depend on the other candidates, compared to 19 percent of respondents with a higher educational level.
The poll was conducted using both mobile phones and landlines on a sample of 2600 citizens aged 18 years old and above, and covering all governorates.
All phone interviews were conducted from 20 to 24 May 2016. The response rate was around 55 percent and the margin of error in the results is less than 3 percent. The poll was self-funded by Baseera as a part of its social responsibility activities.